Monty Python`s The Meaning Of Life (Special Edition Two Disc set) (UK)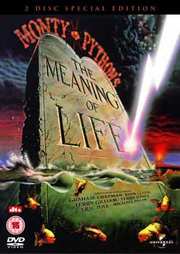 It took God six days to create the earth, and Monty Python just 90 minutes to screw it up
Certificate: 15
Running Time: 103 mins
Retail Price: £19.99
Release Date:
Content Type: Movie
Synopsis:
If you`ve ever wanted to confront the great questions of existence head on, then you should probably read `A History of Western Civilisation` by Bertrand Russell. If it`s a long way to your local library, however, or if you are afraid of contracting one of the rare dermatological diseases that can be picked up by handling too many serious books, then this hand-crafted video cassette, in full colour and with rewind facilities, could be the answer you`ve been looking for. Graham Chapman, John Cleese, Terry Gilliam, Eric Idle, Terry Jones and Michael Palin have distilled a lifetime`s experience (although no-one is quite sure whose) into this cornucopia of erudition, enlightenment and something else beginning with `e`.
Special Features:
Disc One: Eric Idle introduction. Insightful feature commentary with Terry Jones and Terry Gilliam. Soundtrack For The Lonely: A Soundtrack For People Watching At Home Alone. Director`s cut with 3 deleted scenes.
Disc Two: The Meaning Of Making The Meaning of Life. Educational Tips To Prepare You For Life In The Real World. Un Film De John Cleese: a new trailer for the John Cleese version of the film. Remastering A Masterpiece: How To Revive An Old Master. Song And Dance: featurette about 2 of the film`s musical numbers. Songs Unsung: alternate versions of the original songs. In Your Face Promotional Material: Selling The Meaning of Life. Virtual Reunion: The Pythons Together Again. What Fish Think: Go Into The Minds Of Fish. The Snipped Bits: Deleted Scenes.
DVD ROM: The Screenplay. The Lost Scenes. The Song Sheets. The Fat Recipes.

Video Tracks:
Widescreen Anamorphic 1.85:1

Audio Tracks:
Dolby Digital 5.1 English
DTS 5.1 English

Subtitle Tracks:
CC: English

Directed By:
Terry Gilliam
Terry Jones

Written By:
Graham Chapman
John Cleese
Terry Gilliam
Eric Idle
Terry Jones
Michael Palin

Starring:
Graham Chapman
John Cleese
Terry Gilliam
Eric Idle
Terry Jones
Michael Palin
Carol Cleveland

Casting By:
Michelle Guish
Debbie McWilliams

Soundtrack By:
Graham Chapman
John Cleese
John Du Prez
Eric Idle
Terry Jones
Michael Palin

Music From:
Johann Sebastian Bach

Director of Photography:
Peter Hannan
Roger Pratt

Editor:
Julián Doyle

Costume Designer:
James Acheson

Production Designer:
Harry Lange

Producer:
John Goldstone

Distributor:
Universal Pictures