Uptown Girls (UK)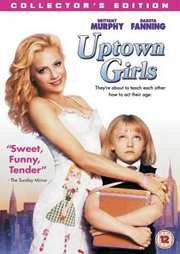 They`re about to teach each other how to act their age
Certificate: 12
Running Time: 88 mins
Retail Price: £19.99
Release Date:
Content Type: Movie
Synopsis:
In Uptown Girls, Brittany Murphy stars as Molly Gunn, the free-spirited daughter of a late, great rock star who has never managed to find her way to settle down and manage her life and money. She is a party girl who is constantly getting her heart broken and now she has had all her money stolen. Destitute Molly takes a job as a nanny to an uptight young girl (Dakota Fanning) with an unloving businesswoman for a mother (Heather Locklear).
Her precocious charge, Ray, is "an eight year old going on forty" who doesn`t take well to her new mad, messy nanny and does everything that she can to put Molly in her place. But at heart Ray is a lonely little girl desperate for someone to love her and come and watch her ballet classes! As the two very different girls try to make their arrangement work, they soon discover a true friend in the other and manage to combine the responsibilities of adulthood with the freedom of being a child.
Special Features:
`The Lowdown on Uptown` - making of featurette. `Rocking Style` - fashion featurette. Deleted scenes. `Time` music video by Chantal Kreviazuk. Video stills gallery. Trailer.

Video Tracks:
Widescreen Anamorphic 1.85:1

Audio Tracks:
Dolby Digital 5.1 English
Dolby Digital 5.1 Italian
Dolby Digital 5.1 Spanish
Dolby Digital 5.1 German

Subtitle Tracks:
French
Hebrew
Polish
Swedish
Turkish
CC: English
Portuguese
Greek
Croatian
Danish
Norwegian
Slovenian

Directed By:
Boaz Yakin

Written By:
Lisa Davidowitz
Mo Ogrodnik
Julia Dahl
Allison Jacobs

Starring:
Jesse Spencer
Donald Faison
Marley Shelton
Dakota Fanning
Brittany Murphy

Casting By:
Laura Rosenthal
Ali Farrell

Soundtrack By:
Joel McNeely
Lesley Barber

Director of Photography:
Michael Ballhaus

Costume Designer:
Sarah Edwards

Production Designer:
Kalina Ivanov

Producer:
Fisher Stevens
John Penotti
Allison Jacobs

Executive Producer:
Boaz Yakin
Gary Winick
Tim Williams
Joseph M. Caracciolo Jr.

Distributor:
Metro Goldwyn Mayer