Hulk (Box Set) (UK)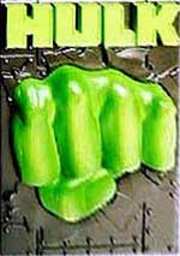 The inner beast will be released
Certificate: 12
Running Time: 132 mins
Retail Price: £29.99
Release Date:
Content Type: Movie
Synopsis:
Scientist Bruce Banner (Eric Bana) has anger management issues. His quiet life as a brilliant research scientist working with ex-girlfriend Betty Ross (Jennifer Connelly) conceals a painful past. A freak lab accident reveals Bruce`s heroic impulses but also unleashes his inner demons. And he becomes the most powerful being on the face of the earth. A super-hero and a monster. Director Ang Lee combines his magic with the groundbreaking visual effects of a blockbuster to bring this classic Marvel Comics super hero to life.

This special edition of Hulk also contains an extra disc with a documentary, a pocket sized reprint of `The Incredible Hulk` #1 Marvel Comic, 10 limited edition prints of storyboards, a booklet of the "You`re Making Me Angry" scene drawn by different illustrators, and a 6 page colour booklet of production notes.
Special Features:
Disc One: Feature commentary with director Ang Lee. Hulk Cam: Inside the Rage - access to behind the scenes footage throughout the film. Thunderbirds teaser trailer.
Disc Two: Making of. Superhero Revealed: The Anatomy of the Hulk - manipulate and dissect a 3D hulk model. Deleted scenes. Hulkification - "You`re Making Me Angry" scene drawn by illustrators from around the world (in Japanese Anime, Euro Style and Marvel Comics style). Evolution of the Hulk. The Incredible Ang Lee. The Dog Fight Scene. The Unique Style of Editing the Hulk. DVD-ROM content.
Disc Three: `Hulk: The Lowdown` - 45 min behind the scenes documentary hosted by Sam Elliot.

Video Tracks:
Widescreen Anamorphic 2.35:1

Audio Tracks:
Dolby Digital 5.1 English

Directed By:
Ang Lee

Written By:
James Schamus
John Turman
Michael France

Starring:
Eric Bana
Jennifer Connelly
Sam Elliott
Josh Lucas
Nick Nolte

Casting By:
Avy Kaufman
Frank Warren

Soundtrack By:
Danny Elfman

Director of Photography:
Frederick Elmes

Editor:
Tim Squyres

Costume Designer:
Marit Allen

Production Designer:
Rick Heinrichs

Producer:
Avi Arad
Larry J. Franco
Gale Anne Hurd
James Schamus
Cheryl A. Tkach
David Womark

Executive Producer:
Kevin Feige
Stan Lee

Distributor:
Universal Pictures