Catch Me If You Can (UK)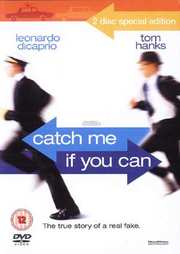 The true story of a real fake
Certificate: 12
Running Time: 135 mins
Retail Price: £19.99
Release Date:
Content Type: Movie
Synopsis:
Steven Spielberg directs this incredible-but-true story of the young life of Frank Abagnale Jr. Following the traumatic divorce of his beloved parents (Christopher Walken and Nathalie Baye) in the 1960s, at age sixteen Abagnale (Leonardo DiCaprio) goes AWOL, becoming a prodigious cheque forger and impersonator of a Pan-Am pilot, a doctor and lawyer. Soon he has the FBI fraud squad on his trail, in particular dogged agent Carl Hanratty (Tom Hanks), who carries on a game of cat-and-mouse with Abagnale over a few years.
Special Features:
Behind the camera
Cast Me If You Can
Scoring
Frank Abagnale: Between Reality And Fiction
The FBI Perspective
In Closing

Video Tracks:
Widescreen Anamorphic 1.85:1

Audio Tracks:
Dolby Digital 5.1 English
Dolby Digital 5.1 French
DTS 5.1 English

Subtitle Tracks:
French
English
German
CC: English
Arabic
Bulgarian

Directed By:
Steven Spielberg

Written By:
Jeff Nathanson
Stan Redding
Frank Abagnale Jr.

Starring:
Nathalie Baye
Martin Sheen
Christopher Walken
Tom Hanks
Leonardo DiCaprio

Casting By:
Debra Zane

Soundtrack By:
John Williams
Burt Bacharach

Director of Photography:
Janusz Kaminski

Editor:
Michael Kahn

Costume Designer:
Mary Zophres

Production Designer:
Jeannine Claudia Oppewall

Producer:
Steven Spielberg
Walter F. Parkes
Devorah Moos-Hankin
Sergio Mimica-Gezzan

Executive Producer:
Michel Shane
Anthony Romano
Laurie MacDonald
Daniel Lupi
Barry Kemp

Distributor:
DreamWorks Pictures