Walking With Dinosaurs (UK)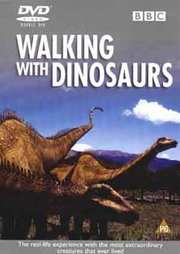 All 6 episodes of the acclaimed BBC series
Certificate: PG
Running Time: 230 mins
Retail Price: £24.99
Release Date:
Content Type: TV Series
Synopsis:
Imagine you could witness a prehistoric sunset - imagine you are watching insectivorous pterosaurs chase moths in the moist evening air and bull Triceratops lock horns over a young female. This is no longer a dream.

WALKING WITH DINOSAURS makes that distant world as real and natural as images from today`s Serengeti. Tracing the 160 million-year history of dinosaurs, from their first appearance to their abrupt demise, the series marks a watershed in television imagery.

Classic natural history techniques, leading edge computer technology and animatronics combined with the latest scientific findings, recreate the sights and sounds of an endlessly fascinating era. WALKING WITH DINOSAURS brings to life the mystery and excitement of the age when these reptiles roamed our planet.

The first disc contains all six episodes, while disc 2 contains, The Making Of Walking With Dinosaurs, a special 50-minute film.
Special Features:
Interactive Menus
Scene Access
50 minute `Making Of` special
Exclusive behind-the-scenes picture-in-picture sequences
Additional graphics
Director`s commentary

Video Tracks:
Widescreen Anamorphic 1.78:1

Audio Tracks:
Dolby Digital Stereo 2.0 English

Subtitle Tracks:
CC: English

Starring:
Avery Brooks
Kenneth Branagh

Visual Effects:
Max Tyrie
Carlos M. Rosas
Sirio Quintavalle
Marco Marenghi
Virgil Manning
Stuart M. Ellis
Richard Ducker
Benjamin Bartlett

Producer:
John Lynch
Tim Haines

Distributor:
BBC