Stargate SG1: Volume 28 (UK)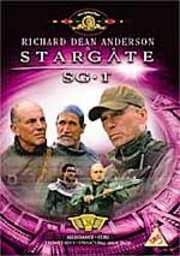 More episodes from the popular TV series
Certificate: PG
Running Time: 180 mins
Retail Price: £19.99
Release Date:
Content Type: TV Series
Synopsis:
Allegiance Fleeing a Goa`uld attack, the Tok`ra must take refuge at the SGC Alpha Site occupied by rebel Jaffa. Centuries of bad blood between the two races begin to boil as an unseen assassin wreaks havoc on the camp. Can O`Neill stop the bloodshed before the assassin escapes with the Alpha Site`s coordinates?

Cure SG-1 visits Pangar, a planet inhabited by humans who have developed a drug that makes their immune systems perfect. Unknown to SG-1 is the means by which the drug is produced, a startling discovery that may hold the key to the origins of the Tok`ra!

Prometheus Rogue NSA officers hijack the top-secret X-303 spaceship with Carter and Jonas on board and demand that Adrian Conrad be brought to the ship. Using his Goa`uld knowledge, Conrad activates the X-303 and takes the ship light years from Earth, as O`Neill and Teal`c attempt a rescue not knowing if they will be able to return home.

Unnatural Selection When SG-1 is marooned in deep space, Thor and the Ancients come to their rescue seeking O`Neill`s help to combat the Replicators who have overrun their home world. Convinced they will attack Earth if not stopped, O`Neill stages a daring mission to stop the Replicators once and for all.
Special Features:
Audio commentaries featuring directors, cast and crew for each episode
Behind-the-scenes photo gallery for each episode
Previews of Stargate: Volume 29
SG1- Directors Series Featurettes for `Allegiance`, `Cure` and `Prometheus`
Trailer for the website

Video Tracks:
Widescreen Anamorphic 1.78:1

Audio Tracks:
Dolby Digital 5.1 English
Dolby Digital 5.1 Spanish
Dolby Digital 5.1 German

Subtitle Tracks:
Finnish
English
German

Starring:
Richard Dean Anderson
Amanda Tapping
Don S. Davis
Alexis Cruz
Michael Shanks
Christopher Judge
Brent Stait
Vaitiare Bandera

Casting By:
Robin Nassif
Paul Weber
Mary Jo Slater

Soundtrack By:
David Arnold
Kevin Kiner
Joel Goldsmith
Tim Truman

Director of Photography:
Peter F. Woeste

Editor:
Daria Ellerman
Allan Lee
Richard Benwick
James Ilecic
Charles Robichaud

Costume Designer:
Christina McQuarrie

Production Designer:
Richard Hudolin

Producer:
Ron French
Michael Greenburg
N. John Smith
Robert C. Cooper
John G. Lenic

Executive Producer:
Richard Dean Anderson
Jonathan Glassner
Brad Wright

Distributor:
Metro Goldwyn Mayer