Unforgiven Special Edition (2 Discs) (UK)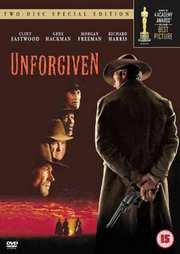 Big trouble is coming to Big Whiskey
Certificate: 15
Running Time: 125 mins
Retail Price: £19.99
Release Date:
Content Type: Movie
Synopsis:
Clint Eastwood`s film Unforgiven is an exciting modern classic that rode off with four 1992 Academy Awards (r), including Best Picture and Director.

"The movie summarised everything I feel about a Western." Eastwood told the Los Angeles Times. "The morale is the concern with gun play".

Eastwood and Morgan Freeman play retired, down-on-their-luck outlaws who pick up their guns one last time to collect a bounty offered by the vengeful prostitutes of the remote Wyoming town of Big Whiskey.

Richard Harris is an ill-fated interloper, a colourful killer-for-hire called English Bob. And Best Supporting Actor Oscar Winner Gene Hackman is the sly and brutal local sheriff who`s brand of law enforcement ranges from unconventional to ruthless.

Big trouble is coming to Big Whiskey.
Special Features:
Audio commentary by Time Magazine film critic and Eastwood biographer Richard Schickel
Theatrical trailer
Behind-the-scenes documentary: `Eastwood & Co. Making Unforgiven`
10th anniversary featurette: `All on Accounta Pullin` a Trigger`
Interviews with Clint Eastwood, Gene Hackman and Richard Harris
Career retrospective: `Eastwood on Eastwood` by Richard Schickel (67 mins)
Classic Maverick TV series episode `Duel at Sundown` in which Eastwood plays a virtual younger incarnation of his Unforgiven role (47 mins)

Video Tracks:
Widescreen Anamorphic 2.35:1

Audio Tracks:
Dolby Digital 5.1 English

Subtitle Tracks:
French
Hebrew
Icelandic
Polish
Czech
Italian
Swedish
Finnish
English
Spanish
German
CC: English
Portuguese
Greek
Hungarian
Arabic
Danish
Norwegian

Directed By:
Clint Eastwood

Written By:
David Webb Peoples

Starring:
Clint Eastwood
Gene Hackman
Morgan Freeman
Richard Harris
Jaimz Woolvett
Saul Rubinek

Casting By:
Phyllis Huffman

Soundtrack By:
Lennie Niehaus

Director of Photography:
Jack N. Green

Editor:
Joel Cox

Production Designer:
Henry Bumstead

Producer:
Clint Eastwood
Julian Ludwig

Executive Producer:
David Valdes

Distributor:
Warner Bros