It`s A Mad, Mad, Mad, Mad World (US)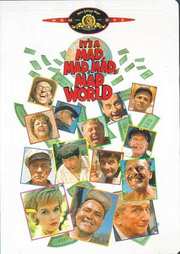 If ever this mad, mad, mad, mad world needed "It`s a mad, mad, mad, mad world" it`s now!
Certificate: G
Running Time: 161 mins
Retail Price: $19.98
Release Date:
Content Type: Movie
Synopsis:
Spencer Tracy heads a hilariously zany cast that stars Hollywood`s greatest comedians (Milton Berle, Sid Caesar, Buddy Hackett, Ethel Merman, Mickey Rooney, Dick Shawn, Phil Silvers, Terry-Thomas and Jonathan Winters) and features cameo appearances by every joker and jester in the business, from Don Knotts and Jerry Lewis to The Three Stooges. Nominated for 6 Oscars®, It`s A Mad, Mad, Mad, Mad World is "an explosive motion picture experience" (Variety)!

On a winding desert highway, eight vacation-bound motorists share an experience that alters their plans - and their lives! After a mysterious stranger divulges the location of a stolen fortune, they each speed off in a mind-bending, car-bashing race for the loot - and the most side-splitting laughfest in history.
Special Features:
"Something A Little Less Serious" Documentary
Extended Scenes
Theatrical Trailer
Reissue Trailer (1970)

Video Tracks:
Widescreen Anamorphic 2.35:1

Audio Tracks:
Dolby Digital 5.1 English
Dolby Digital 5.1 French

Subtitle Tracks:
French
English
Spanish

Directed By:
Stanley Kramer

Written By:
William Rose
Tania Rose

Starring:
Jonathan Winters
Terry-Thomas
Phil Silvers
Dick Shawn
Mickey Rooney
Ethel Merman
Buddy Hackett
Sid Caesar
Milton Berle
Spencer Tracy

Casting By:
Lynn Stalmaster

Soundtrack By:
Ernest Gold

Director of Photography:
Ernest Laszlo

Editor:
Frederic Knudtson
Robert C. Jones
Gene Fowler Jr.

Costume Designer:
Bill Thomas

Production Designer:
Rudolph Sternad

Producer:
Stanley Kramer

Distributor:
MGM / UA