Minority Report (UK)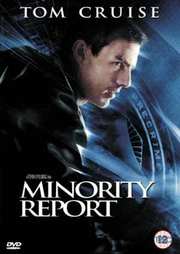 Everybody runs
Certificate: 12
Running Time: 142 mins
Retail Price: £24.99
Release Date:
Content Type: Movie
Synopsis:
The science-fiction thriller `Minority Report`, directed by Steven Spielberg and starring Tom Cruise, is based on a short story by renowned writer Philip K. Dick.
In the year 2054, in Washington, D.C., murder has been eliminated thanks to Precrime, a program that uses the visions of three psychics, called Pre-Cogs (an abbreviation for precognitive thinkers), to arrest and imprison would-be murderers before they have a chance to kill. Tom Cruise plays John Anderton, a Precrime enforcer who believes in the system for his own personal reasons--years back his young son was abducted, and he has dealt with the loss by becoming a high-strung Precrime officer. The director of Precrime (Max von Sydow) is eager to take the program national, and feels threatened by an ambitious federal agent (Colin Farrell) who is bent on finding a flaw in the system. When Anderton finds himself accused of the future murder of a man he`s never met, his faith in Precrime is instantly shaken. He goes on the run, and is trailed by the relentless Precrime police.

In the tradition of BLADE RUNNER (also based on a Dick story), MINORITY REPORT is a dark, brooding vision of the future. Spielberg expertly mixes thrilling chase and suspense sequences (the best of which involves Anderton being pursued by eye-scanning mechanical spiders) and stunning special effects with a challenging look at society`s willingness to sacrifice privacy and the notion of free will for convenience and security. MINORITY REPORT is a thought-provoking and exciting film that ranks with Spielberg`s best.

Given full access to the set from the first day of filming, the Minority Report DVD special features crew shot countless hours of behind-the-scenes footage for exclusive use in the bonus materials. The DVD offers the home viewing audience a rare look at the ins-and-outs of the filmmaking process on a production featuring seven Academy Award - winning filmmakers.
Special Features:
Minority Report: From Story To Screen
Deconstructing Minority Report
The Stunts Of Minority Report
ILM and Minority Report
Final Report
Minority Report Archives (virtual gallery, storyboard sequences, illustrations and stills, production notes and biographies)

Video Tracks:
Widescreen Anamorphic 2.40:1

Audio Tracks:
Dolby Digital 5.1 English
DTS 5.1 English

Subtitle Tracks:
Finnish
English
Danish

Directed By:
Steven Spielberg

Written By:
Jon Cohen
Scott Frank
Philip K. Dick

Starring:
Max von Sydow
Samantha Morton
Colin Farrell
Tom Cruise

Casting By:
Denise Chamian

Soundtrack By:
John Williams

Music From:
Pyotr Ilyich Tchaikovsky
Franz Schubert
Johann Sebastian Bach

Director of Photography:
Janusz Kaminski

Editor:
Michael Kahn

Producer:
Ronald Shusett
Walter F. Parkes
Gerald R. Molen
Sergio Mimica-Gezzan
Gary Goldman
Michael Doven
Bonnie Curtis
Jan de Bont

Distributor:
Twentieth Century Fox