Mad Max Beyond Thunderdome (UK)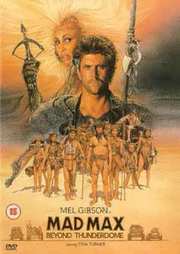 Two men enter. One man leaves
Certificate: 15
Running Time: 102 mins
Retail Price: £12.99
Release Date:
Content Type: Movie
Synopsis:
Two men enter. One man leaves. That`s the law in Bartertown`s Thunderdome arena. But lawmaker Aunty Entity will soon add another: Don`t get Max mad !

Mad Max Beyond Thunderdome stars Mel Gibson for his third go-round as the title hero who takes on the barbarians of the post-nuclear future - and this time becomes the savior of a tribe of lost children. Music superstar Tina Turner steals what`s left of the screen as Aunty Entity, a power-mad dominatrix determined to use Max to tighten her stranglehold on Bartertown.

Directors George Miller and George Ogilvie deliver another rousing final apocalypse-on-wheels and one of the best movie fight scenes ever, as Max and the gladitorial Blaster face off with maces, chainsaws, and anything not nailed down inside the Thunderdome.
Special Features:
Production Notes

Video Tracks:
Widescreen Anamorphic 2.35:1

Audio Tracks:
Dolby Digital 5.1 English
Dolby Digital Stereo 2.0 French
Dolby Digital Mono Italian

Subtitle Tracks:
French
Italian
English
Spanish
CC: English
Portuguese
Dutch
Arabic

Directed By:
George Ogilvie
George Miller

Written By:
George Miller
Terry Hayes

Starring:
Angelo Rossitto
Frank Thring
Tina Turner
Adam Cockburn
Bruce Spence
Mel Gibson

Casting By:
Alison Barrett

Soundtrack By:
Maurice Jarre

Director of Photography:
Dean Semler

Editor:
Richard Francis-Bruce

Costume Designer:
Norma Moriceau

Producer:
Doug Mitchell
George Miller
Terry Hayes
Steve Amezdroz

Distributor:
Warner Bros