Lord Of The Rings, The: The Fellowship Of The Ring (Limited Edition 4 Disc Collector`s Box Set) (UK)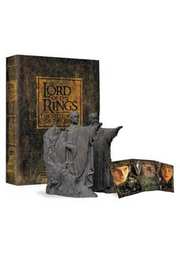 Power Can Be Held In The Smallest Of Things
Certificate: PG
Running Time: 568 mins
Retail Price: £44.99
Release Date:
Content Type: Movie
Synopsis:
Based on J.R.R. Tolkien`s masterpiece, The Lord of the Rings: The Fellowship of the Ring is an epic adventure of good against evil, the power of friendship and individual courage. The saga centers around an unassuming Hobbit named Frodo Baggins who inherits a Ring that would give a dark and powerful lord the power to enslave the world. With a loyal fellowship of elves, dwarves, men and a wizard, Frodo embarks on a heroic quest to destroy the One Ring and pave the way for the emergence of mankind.

This extended cut will contain 30 minutes of extra footage and will be presented as a 4 disc set. Discs 1 & 2 will contain the extended cut of the film, presented in 6.1 Dolby Digital EX Surround, Subtitles and closed captions. Discs 3 & 4 will contain six hours of original supplementary material - details to follow. This Box Set will also include exclusive `Argonath bookends` together with a host of other superb additions which will be announced at a later date.

Winner: Best Disc; Best Extras - DVD Reviewer Awards 2002
Special Features:
Disc 1:
Director Peter Jackson`s Extended Version of the film, presented in 6.1 Dolby Digital EX Surround, Subtitles and closed captions.

Disc 2:
Ten minute preview of The Two Towers
Houghton Mifflin Welcomes You To Middle Earth
Quest For the Ring: Fox Network TV Special
The Path To Middle Earth: Sci-Fi Channel TV Special
Eight internet documentary shorts
Three theatrical trailers
Six TV spots
Enya`s May It Be music video
EA Video Game preview
Preview of the extended version DVD presented by Peter Jackson

Disc 3 - "From Book to Vision":
Adapting the book into a screenplay & planning the film
Designing and building Middle-earth
Storyboards to pre-visualization
Weta Workshop visit - An up-close look at the weapons, armour, creatures and miniatures from the film
Atlas of Middle-earth: Tracing the journey of the Fellowship
An interactive map of New Zealand highlighting the location scouting process
Galleries of art and slideshows with commentaries by the artists
Guided tour of the wardrobe department
Footage from early meetings, moving storyboards and pre-visualization reels
And much more!

DISC 4 - "From Vision to Reality":
Bringing the characters to life
A day in the life of a hobbit
Principal photography: Stories from the set
Scale: Creating the illusion of size
Galleries of behind-the-scenes photographs and personal cast photos
Editorial and visual effects multi-angle progressions
Sound design demonstration
And much more!

Video Tracks:
Widescreen Anamorphic 2.35:1

Audio Tracks:
Dolby Digital Surround 2.0 English
DTS ES 6.1 English
Dolby Digital EX 5.1 English

Subtitle Tracks:
English
CC: English

Directed By:
Peter Jackson

Written By:
Frances Walsh
Peter Jackson
J.R.R. Tolkien
Philippa Boyens

Starring:
Ian Holm
Liv Tyler
Cate Blanchett
Hugo Weaving
Viggo Mortensen
Sean Bean
Sean Astin
Ian McKellen
Elijah Wood
Orlando Bloom

Casting By:
John Hubbard
Amy MacLean
Ann Robinson
Liz Mullane
Victoria Burrows

Soundtrack By:
Enya
Howard Shore

Director of Photography:
Andrew Lesnie

Editor:
John Gilbert

Costume Designer:
Richard Taylor
Ngila Dickson

Production Designer:
Grant Major

Producer:
Barrie M. Osborne
Tim Sanders
Peter Jackson
Frances Walsh
Jamie Selkirk
Rick Porras
Ellen Somers

Executive Producer:
Bob Weinstein
Harvey Weinstein
Mark Ordesky
Michael Lynne
Robert Shaye

Distributor:
Entertainment In Video