Lord Of The Rings, The: The Fellowship Of The Ring (UK)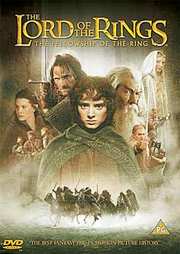 Power Can Be Held In The Smallest Of Things
Certificate: PG
Running Time: 171 mins
Retail Price: £24.99
Release Date:
Content Type: Movie
Synopsis:
In a time before history, in a place called Middle-earth, a dark and powerful lord has brought together the forces of evil to destroy its cultures and enslave all life caught in his path. Sauron`s time has come and he needs only one small object, a Ring that has been lost for centuries, to snuff out the light of civilization and cover the world in darkness. Though he has put all of his power into the search for it, fate has put it in the hands of a young hobbit named Frodo Baggins (Elijah Wood), who inherits the Ring and steps into legend.

With the help of a loyal fellowship comprised of hobbits Sam (Sean Astin), Merry (Dominic Monaghan) and Pippin (Billy Boyd); Gimli the dwarf (John Rhys-Davies); and humans Aragorn (Viggo Mortensen) and Boromir (Sean Bean); and with the guidance of the wizard Gandalf (Ian McKellen), and elves Arwen (Liv Tyler), Galadriel (Cate Blanchett) and Elrond (Hugo Weaving), Frodo must journey to the Mount of Doom to destroy the Ring. If he doesn`t find a way, no one will.

Part one of The Lord of the Rings trilogy, Peter Jackson`s film brings J.R.R. Tolkein`s tale vividly to life.
Special Features:
Disc 1:
Theatrical Version of the movie
Dolby Digital EX 5.1 Surround Sound
Dolby Surround 2.0
English Subtitles

Disc 2:

Ten minute preview of The Two Towers
Houghton Mifflin Welcomes You To Middle Earth
Quest For the Ring: Fox Network TV Special
A Passage To Middle Earth: Sci-Fi Channel TV Special
Eight internet documentary shorts
Three theatrical trailers
Six TV spots
Enya`s May It Be music video
EA Video Game preview
An Inside Look at the Special Extended DVD Edition of The Lord Of The Rings:The Fellowship Of The Ring presented by Peter Jackson
English Subtitles

Video Tracks:
Widescreen Anamorphic 2.35:1

Audio Tracks:
Dolby Digital 5.1 English
Dolby Digital Stereo 2.0 English

Subtitle Tracks:
English
CC: English

Directed By:
Peter Jackson

Written By:
J.R.R. Tolkien
Philippa Boyens
Frances Walsh
Peter Jackson

Starring:
Hugo Weaving
Liv Tyler
Cate Blanchett
Viggo Mortensen
Elijah Wood
Sean Astin
Ian McKellen
Orlando Bloom
Ian Holm
Sean Bean

Casting By:
Ann Robinson
Liz Mullane
Amy MacLean
John Hubbard
Victoria Burrows

Soundtrack By:
Howard Shore
Enya

Director of Photography:
Andrew Lesnie

Editor:
John Gilbert

Costume Designer:
Richard Taylor
Ngila Dickson

Production Designer:
Grant Major

Producer:
Frances Walsh
Ellen Somers
Jamie Selkirk
Rick Porras
Peter Jackson
Tim Sanders
Barrie M. Osborne

Executive Producer:
Harvey Weinstein
Bob Weinstein
Robert Shaye
Mark Ordesky
Michael Lynne

Distributor:
Entertainment In Video