Willow (UK)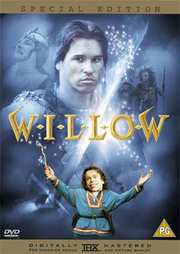 Adventure doesn`t come any bigger than this
Certificate: PG
Running Time: 120 mins
Retail Price: £19.99
Release Date:
Content Type: Movie
Synopsis:
One of the most successful fantasy adventure movies of all time. Directed by Ron Howard and executive produced by George Lucas, WILLOW is among the most requested DVDs on the Internet, consistently ranking in the Top 10 on DVD websites. The film stars Val Kilmer, Joanne Whalley, Jean Marsh and Warwick Davis and was nominated for Academy Awards for Best Sound Effects Editing and Best Visual Effects. The Special Edition DVD features exclusive material enabling fans of the movie, as well as a new generation, to experience the mystical adventure like never before.
This pivotal film in visual effects history has been THX digitally re-mastered for superior sound and picture quality and is presented in new 5.1 Dolby surround sound. Features on the disc include a commentary by Warwick Davis, an all-new documentary showcasing WILLOW`s history-making achievements in special effects, a classic "Making Of An Adventure" documentary, original theatrical trailers, TV spots, a still photo gallery, and more.

Based on a story by George Lucas, with a screenplay written by Bob Dolman, WILLOW is director Ron Howard`s fantasy world of medieval adventure. WILLOW stars Val Kilmer as Madmartigan, a swashbuckling warrior, and Warwick Davis as the title character. In a mythical kingdom, the evil sorceress Queen Bavmorda (Jean Marsh) plots to kill all infants so that the newborn princess, Elora, will never take over the throne. But a midwife sets the baby adrift in a river, and she is rescued by Willow, a farmer in Nelwyn, a peaceful village of trolls, fairies, and little folk. Willow and Madmartigan begin a quest to deliver the baby from evil while being chased by Queen Bavmorda`s daughter, Sorsha (Joanne Whalley), sent to bring the baby back to Nockmaar.
Special Features:
Warwick Davis Audio Commentary
Featurette "Willow: Making of an Adventure"
Featurette "Morf to Morphing: The Dawn of Digital Filmmaking"
Stills gallery (60 stills)
Theatrical trailers
2 Theatrical Teaser Trailers
Eight TV Spots

Video Tracks:
Widescreen Anamorphic 2.35:1

Audio Tracks:
Dolby Digital 5.1 English
Dolby Digital Stereo 2.0 English

Subtitle Tracks:
Swedish
Finnish
CC: English
Danish
Norwegian

Directed By:
Ron Howard

Written By:
George Lucas
Bob Dolman

Starring:
Billy Barty
Patricia Hayes
Jean Marsh
Warwick Davis
Joanne Whalley
Val Kilmer

Soundtrack By:
James Horner

Director of Photography:
Adrian Biddle

Editor:
Mike Hill
Daniel P. Hanley

Costume Designer:
Barbara Lane

Production Designer:
Allan Cameron

Producer:
Nigel Wooll
Joe Johnston

Executive Producer:
George Lucas

Distributor:
Twentieth Century Fox