Good, The Bad and The Ugly, The (UK)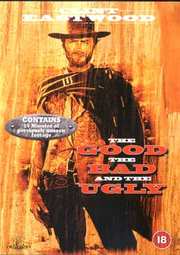 For three men the civil war wasn`t hell. It was practice!
Certificate: 18
Running Time: 154 mins
Retail Price: £19.99
Release Date:
Content Type: Movie
Synopsis:
By far the most ambitious, unflinchingly graphic and stylistically influential western ever mounted, `The Good, the Bad and the Ugly` is an engrossing actioner shot through with a volatile mix of myth and realism.

Clint Eastwood returns for a final appearance as the invincible Man With No Name, this time teaming with two gunslingers (Eli Wallach and Lee Van Cleef) to pursue a cache of $200,000 - and letting no one, not even warring factions in a civil war, stand in their way.

From sun-drenched panoramas to bold hard closeups, exceptional camera work captures the beauty and cruelty of the barren landscape and the hardened characters who stride unwaveringly through it.

Forging a vibrant and yet detached style of action that had not been seen before, and has never been matched since, `The Good, the Bad and the Ugly` shatters the western in true Clint Eastwood style. The complex plot of bloodshed and betrayal winds its way through the American Civil War, filmed to resemble the French battlefields of WW1, to end in a climactic Dance of Death. Arguably the quintessential Italian Western, this 1966 film boasts a fine Ennio Morricone score, featuring a main theme that reached No.1 in the world`s pop charts.
Special Features:
Interactive Menus
Scene Access
Theatrical trailer
Eight-page Booklet
Behind the scenes trivia
Still pictures
Plus 14 minutes of unreleased extra footage!

Video Tracks:
Widescreen Anamorphic 2.35:1

Audio Tracks:
Dolby Digital Mono English

Subtitle Tracks:
English
CC: English
Dutch

Directed By:
Sergio Leone

Written By:
Luciano Vincenzoni
Sergio Leone
Sergio Donati
Furio Scarpelli
Agenore Incrocci

Starring:
Lee Van Cleef
Eli Wallach
Clint Eastwood

Soundtrack By:
Ennio Morricone

Director of Photography:
Tonino Delli Colli

Editor:
Nino Baragli
Eugenio Alabiso

Production Designer:
Carlo Simi
Carlo Simi

Producer:
Federico Tofi
Carlo Bartolini
Alberto Grimaldi

Distributor:
Warner Bros