UFO Volume 1 (UK)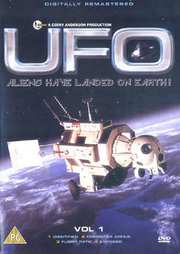 Aliens Have Landed On Earth!
Certificate: PG
Running Time: 191 mins
Retail Price: £19.99
Release Date:
Content Type: TV Series
Synopsis:
Get ready for the ultimate 1970`s live action sci-fi series from the highly acclaimed production stable of Gerry Anderson where danger is ever present and adventure is just around the corner.

After ten years of setbacks and sabotage, S.H.A.D.O. (Supreme Headquarters Alien Defence Organisation) is finally ready to defend the earth from alien invasion.

Led by Commander Ed Straker, S.H.A.D.O. will need all their wits, technology and action craft if they are going to win the battle against an alien race intent on using humans as organ donors.

Features the episodes:

Identified - a flight carrying important Utronic equipment is safeguarded by Colonel Freeman but has just been targeted by an approaching UFO.

Computer Affair - a UFO gets through S.H.A.D.O.`s outer defences and an astronaut is killed. Straker investigates if human error was to blame.

Flight Path - a technician is passing computer co-ordinates to the aliens, the significance of which becomes apparent when Straker learns that the aliens are planning to attack moonbase.

Exposed - an XV-104 test plane wanders into a UFO target area and the pilot makes sightings of both a UFO and Sky One, which he intends to prove are his story is not believed.
Special Features:
Alternative opening sequence
Commentary from Gerry Anderson on Episode 1
Production gallery
Deleted scenes gallery
Behind the scenes gallery
Interactive menus
Scene access

Video Tracks:
Standard 1.33:1

Audio Tracks:
Dolby Digital Mono English

Subtitle Tracks:
English

Directed By:
Gerry Anderson

Written By:
Gerry Anderson

Starring:
Jeremy Wilkin
Wanda Ventham
Vladek Sheybal
Maxwell Shaw
Norma Ronald
Mel Oxley
Gary Myers
Georgina Moon
Dolores Mantez
Jon Kelley
Anouska Hempel
Mark Hawkins
Antonia Ellis
Ayshea Brough
Harry Baird
Ayshea
Keith Alexander
Grant Taylor
Michael Billington
Gabrielle Drake
Peter Gordeno
George Sewell
Ed Bishop