AI: Artificial Intelligence (2 Discs) (UK)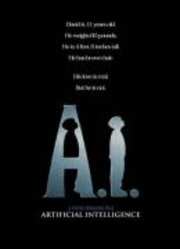 Journey To A World Where Robots Dream And Desire
Certificate: 12
Running Time: 149 mins
Retail Price: £24.99
Release Date:
Content Type: Movie
Synopsis:
The long-awaited sci-fi epic that combines Kubrick`s genius with Spielberg`s magical touch, this is the story of a young robot that wants to be a boy....

Based on Brian Aldiss` short story `Super-Toys Last All Summer Long`, Artificial Intelligence was a long cherished project for Stanley Kubrick. Following Kubrick`s death, the film was inherited by Steven Spielberg and the result is of the most unusual and ambitious sci-fi epics of recent years.

The film follows the adventures of android boy David (Hayley Joel Osment) in a future of enforced single child families and global warming. Programmed with `a love that will never die` by visionary scientist Professor Hobby (William Hurt), he is selected to fill the childless void in the home of Monica Swinton (Frances O`Connor), and finally abandoned by her when her own son recovers from a life threatening illness. Setting out on a quest to become a real boy worthy of his mommy`s love, along the way he escapes a grotesque, televised `flesh fair` where robots are systematically destroyed in front of a raucous crowd. He then hooks up with Jude Law`s ace robot lover Gigolo Joe who escorts David to Rouge City, and eventually to an eerily waterlogged New York where the skyscrapers rear up like monoliths from the sea and David confronts his fate. Part futuristic fairy tale, part sci-fi parable, A.I. is a fascinating meeting of minds between the creators of 2001: A Space Odyssey and Close Encounters Of The Third Kind.
Special Features:
Documentary on How A.I. Artificial Intelligence Was Brought to the Screen
Featurette on Production Design from Original Conceptual Drawings to Building of Sets
Interviews with Steven Spielberg, Haley Joel Osment, and Jude Law
Behind-the-Scenes Featurettes on the Design, Lighting and Costumes
Development and Creation of Robots of A.I. Including Visit to Stan Winston Studios
Creation of SFX on Set with Effects Supervisor Michael Lantieri
Interviews with Dennis Muren and Scott Farrar of Industrial Light And Magic
A Visit to Skywalker Sound
Conversation with John Williams about Scoring AI. Storyboard Sequences
Production Drawings
Photo Gallery
Theatrical Trailer

Video Tracks:
Widescreen Anamorphic 1.85:1

Audio Tracks:
Dolby Digital 5.1 English

Directed By:
Steven Spielberg

Written By:
Steven Spielberg
Brian Aldiss
Ian Watson

Starring:
Clark Gregg
Ken Leung
William Hurt
Jude Law
Jake Thomas
Sam Robards
Haley Joel Osment

Casting By:
Avy Kaufman

Soundtrack By:
John Williams
Al Jourgensen
Paul Barker

Director of Photography:
Janusz Kaminski

Editor:
Michael Kahn

Costume Designer:
Bob Ringwood

Production Designer:
Rick Carter

Producer:
Steven Spielberg
Kathleen Kennedy
Bonnie Curtis

Executive Producer:
Walter F. Parkes
Jan Harlan

Distributor:
Warner Bros