Mystery Men (US)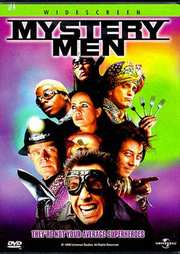 They`re not your average superheroes
Certificate: PG-13
Running Time: 122 mins
Retail Price: $24.98
Release Date:
Content Type: Movie
Synopsis:
The hippest cast in history has united to become the funniest superhero team ever. Ben Stiller, Janeane Garofalo, Hank Azaria, William H. Macy, Greg Kinnear, Geoffrey Rush, and Paul Reubens join forces in this wild, funny and thoroughly original misadventure.

When Captain Amazing, Champion City`s legendary superhero, falls into the hands of the evil madman Casanova Frankenstein and his disco-dancing henchmen, there`s suddenly a chance for the aspiring superheros to show what they can do. They`re the Mystery Men... a ragtag team of superhero wannabes featuring: Mr. Furious, whose power comes from his boundless rage; The Shoveler, a father who shovels "better than anyone"; The Blue Raja, a fork-flinging mama`s boy; The Bowler, who fights crime with the help of her father`s skull; The Spleen, whose power is pure flatulence; Invisible Boy, who`s only invisible when no one`s watching and the Sphinx, a cliché-spewing philosopher.

With its outrageous adventure, incredible cast and hip alternative humor, Mystery Men is so irresistibly funny and appealing, seeing it just once will never be enough.
Special Features:
Interactive Menus
Scene Access
Spotlight on Location
Feature Commentary with Director Kinka Usher
Deleted Scenes
Universal Soundtrack Presentation
Music Highlights
The Origin of the "Mystery Men" Comic Book Characters
Production Notes
Theatrical Trailer
DVD-ROM Features

Video Tracks:
Widescreen Anamorphic 1.85:1

Audio Tracks:
Dolby Digital 5.1 English
Dolby Digital Surround 2.0 French

Directed By:
Kinka Usher

Written By:
Bob Burden
Neil Cuthbert

Starring:
Tom Waits
Wes Studi
Ricky Jay
Geoffrey Rush
Greg Kinnear
Lena Olin
Claire Forlani
Eddie Izzard
Paul Reubens
William H. Macy
Hank Azaria
Ben Stiller
Kel Mitchell
Janeane Garofalo

Casting By:
Mindy Marin

Soundtrack By:
Shirley Walker
Stephen Warbeck

Director of Photography:
Stephen H. Burum

Editor:
Conrad Buff IV

Costume Designer:
Marilyn Vance-Straker

Production Designer:
Kirk M. Petruccelli

Producer:
Lloyd Levin
Steven Gilder
Mike Richardson
Lawrence Gordon

Executive Producer:
Robert Engelman

Distributor:
Universal Pictures