West Wing, The: Season 1 Part 1 (UK)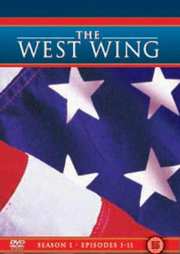 11 episodes
Certificate: 15
Running Time: 495 mins
Retail Price: £34.99
Release Date:
Content Type: TV Series
Synopsis:
Pilot
Members of the White House staff handle personal and professional crises after hearing the President of the United States rode a bicycle into a tree and sprained his ankle.

Post Hoc, Ergo Propter Hoc
The President gets a new media consultant. Leo tangles with the Vice President. An act of terrorism infuriates the Commander-in-Chief.

A Proportional Response
The Press learns of Sam`s relationship with a call girl. The President plots revenge on terrorists and his foul mood intimidates his new aide.

Five Votes Down
Josh`s tactics to get votes for a bill favoured by the President cause friction. The Vice President helps Leo.

The Crackpots and These Women
Toby discovers an unsettling secret. Josh finds something more threatening than a nuclear attack. The President`s daughter visits.

Mr Willis Of Ohio
The life of the President`s daughter is threatened. Sam privately tutors C.J., and a new congressman surprises Toby.

The State Dinner
The President and First Lady host a tense dinner at the White House. A hurricane heads towards an American Naval fleet. A group of survivalists tests the President.

Enemies
Mallory asks Sam out for a date. The President embarrasses the Vice President. Josh finds a way to further empower the President.

The Short List
A congressman makes a serious accusation against the White House staff. The President`s plans to appoint a new Supreme Court Justice create problems.

In Excelsis Deo
Toby makes sure that a Korean War veterean gets the funeral he deserves. Leo`s past makes him contemplate resigning. The President goes Christmas shopping.

Lord John Marbury
The President`s life becomes a nightmare when India invades Kashmir and his daughter wants to date Charlie. Leo`s drug troubles escalate.
Special Features:
Interactive Menus
Scene Access

Interviews with:
Martin Sheen
Rob Lowe
John Spenser
Allison Janney
Bradley Whitford
Richard Schiff
Mona Kelly
Aaron Sorkin (creator)
Thomas Schilamme (Director)

Trailer
Web-link

Video Tracks:
Standard 1.33:1

Audio Tracks:
Dolby Digital Stereo 2.0 English

Starring:
Moira Kelly
Martin Sheen
John Spencer
Richard Schiff
Janel Moloney
Allison Janney
Dule Hill
Stockard Channing
Rob Lowe

Casting By:
Anthony Sepulveda
Kevin Scott
Barbara Miller
John Levey
Jeff Block

Soundtrack By:
W.G. Snuffy Walden
Roxanne Lippel

Director of Photography:
James Glennon
Mike Fash
Thomas Del Ruth

Editor:
Rob Starnes
Christopher Nelson
Blake McCormick
Bill Johnson
Tina Hirsch
Russell Denove

Costume Designer:
Lyn Paolo

Production Designer:
Ken Hardy

Distributor:
Warner Bros