Battle Royale (UK)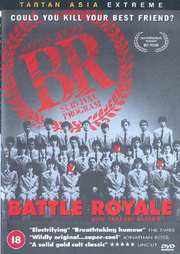 Could You Kill Your Best Friend?
Certificate: 18
Running Time: 109 mins
Retail Price: £19.99
Release Date:
Content Type: Movie
Synopsis:
At the dawn of the new millennium, Japan is in a state of near-collapse. Unemployemnt is at an all-time high, and violence amongst the nation`s youth is spiralling out of control. With school children boycotting their lessons and physically abusing their teachers, a beleagured and near-defeated government decides to introduce a radical new measure: the Battle Royale Act.
Overseen by a former teacher, Kitano (`Beat` Takeshi), and requiring that a randomly chosen school class be taken to a deserted island and forced to fight each other to the death, the Act dictates that only one pupil be allowed to survive the punishment. He or she will return, not as the victor, but as the ultimate proof of the lengths to which the government are prepared to go to curb the tide of juvenile disobediance.

Likened to Stanley Kubrick`s A Clockwork Orange by many critics, this explosive film shocked a nation with its violent portrayal of a society in ruins.
Special Features:
Interactive Menus
Scene Access
Star and Director Filmographies
Original Theatrical Trailer
Stills Gallery
Mark Wyatt Film Notes
Trailer Reel

Video Tracks:
Widescreen Anamorphic 1.78:1

Audio Tracks:
Dolby Digital Stereo 2.0 Japanese

Subtitle Tracks:
English

Directed By:
Kinji Fukasaku

Written By:
Koshun Takami
Kenta Fukasaku

Starring:
Chiaki Kuriyama
Kou Shibasaki
Masanobu Ando
Taro Yamamoto
Aki Maeda
Tatsuya Fujiwara

Soundtrack By:
Masamichi Amano

Director of Photography:
Katsumi Yanagishima

Editor:
Hirohide Abe

Production Designer:
Kyôko Heya

Producer:
Masao Sato
Masumi Okada
Tetsu Kayama
Akio Kamatani

Distributor:
Tartan Video