Final Fantasy: The Spirits Within (UK)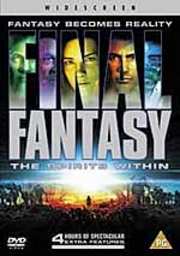 Unleash A New Reality
Certificate: PG
Running Time: 106 mins
Retail Price: £24.99
Release Date:
Content Type: Movie
Synopsis:
The year is 2065 AD. The Earth is infested with alien spirits, and mankind faces total extinction. Led by a strange dream and guided by her mentor, Dr. Sid, scientist Aki Ross struggles to collect the eight spirits in the hope of creating a force powerful enough to destroy the alien presence and pure enough to protect the planet. With the aid of the Deep Eyes Squadron, Aki must save the Earth from its darkest hate and unleash the spirits within. Final Fantasy: The Spirits Within is the groundbreaking new CGI film from the creators of the Final Fantasy Video Game Franchise with voices from: Alec Baldwin, Steve Buscemi, Ming-Na, Ving Rhames, Donald Sutherland and James Woods.
Special Features:
Interactive Menus
Scene Access
Commentary Tracks from co-director, animation director, editor and composer
`Blast and Boards` work-in-progress with storyboards, designs and animatics plus commentary
Factoid subtitle track
Isolated Score
Aki Photoshoot
Interactive Documentary
Highlights
In-depth Character Files
Vehicle Details
Test Animations
Out-takes
`Kelly`s Thriller` featuring the characters dancing to Michael Jackson`s Thriller!

Video Tracks:
Widescreen Anamorphic 1.85:1

Audio Tracks:
Dolby Digital 5.1 English

Directed By:
Motonori Sakakibara
Hironobu Sakaguchi

Written By:
Jack Fletcher
Jeff Vintar
Al Reinert
Hironobu Sakaguchi

Starring:
James Woods
Donald Sutherland
Peri Gilpin
Steve Buscemi
Ving Rhames
Alec Baldwin
Ming-Na

Casting By:
Jack Fletcher

Soundtrack By:
Elliot Goldenthal

Director of Photography:
Motonori Sakakibara

Editor:
Christopher S. Capp

Production Designer:
Mauro Borelli

Producer:
Katsuhiko Toyota
Akio Sakai
Deirdre Morrison
Chris Lee
Daniel S. Kletzky
Michael Hack
Jun Aida

Executive Producer:
Hironobu Sakaguchi

Distributor:
Columbia / Tristar