Tora! Tora! Tora! (US)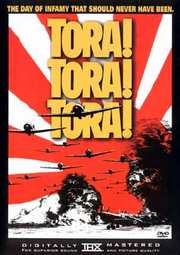 The incredible attack on Pearl Harbor as told from both the American and Japanese sides
Certificate: G
Running Time: 145 mins
Retail Price: $29.98
Release Date:
Content Type: Movie
Synopsis:
Tora! Tora! Tora! is the Japanese signal to attack - and the movie meticulously recreates the attack on Pearl Harbor and the events leading up to it.

Opening scenes contrast the American and Japanese positions. Japanese imperialists decide to stage the attack. Top U.S. brass ignore its possibility. Intercepted Japanese messages warn of it - but never reach F.D.R.`s desk. Radar warnings are disregarded.

Even the entrapment of a Japanese submarine in Pearl Harbor before the attack goes unreported. Ultimately the day of infamy arrives - in the most spectacular, gut-wrenching cavalcade of action-packed footage ever. It`s the most dazzling recreation of America`s darkest day - and some of her finest hours.
Special Features:
Interactive Menus
Scene Selection
Original Theatrical Trailer

Video Tracks:
Widescreen Anamorphic 2.35:1

Audio Tracks:
Dolby Digital Surround 2.0 English
Dolby Digital 4.0 English
Dolby Digital Mono French

Subtitle Tracks:
English
Spanish
CC: English

Directed By:
Toshio Masuda
Kinji Fukasaku
Richard Fleischer

Written By:
Hideo Oguni
Ryuzo Kikushima
Larry Forrester

Starring:
Jason Robards
Takahiro Tamura
James Whitmore
E.G. Marshall
Tatsuya Mihashi
Joseph Cotten
Martin Balsam

Editor:
James E. Newcom
Pembroke J. Herring
Inoue Chikaya

Production Designer:
Jack Martin Smith
Yoshiro Muraki
Taizoh Kawashima
Richard Day

Visual Effects:
Greg C. Jensen
L.B. Abbott

Producer:
Elmo Williams
Otto Lang

Distributor:
Twentieth Century Fox