WWE: Undertaker - The Complete WrestleMania Collection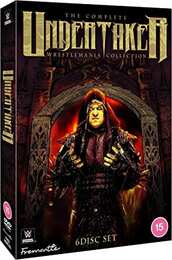 Certificate: 15
Running Time: 820 Mins
Retail Price: £19.99
Release Date: 14/11/2022
Content Type: TV Series
Synopsis:
For almost three decades, Undertaker laid claim to the souls of the men who dared face him at WrestleMania. In this complete collection, relive each and every one of The Deadman's matches at "The Showcase of the Immortals", from the beginning of the legendary "Streak" at WrestleMania VII to its shocking conclusion at WrestleMania 30 and beyond!

Experience The Phenom in his element as he engaged in epic wars with Kane, Batista, Triple H, Ric Flair, Shawn Michaels, Randy Orton, Brock Lesnar, Roman Reigns, John Cena and more!

Though "The Streak" may be laid to rest, Undertaker's legacy at WrestleMania lives forever!
Special Features:
Matches
Wrestlemania 7
vs. Superfly Jimmy Snuka

Wrestlemania 8
vs. Jake The Snake Roberts

Wrestlemania 9
vs. Giant Gonzalez

Wrestlemania 11
vs. King Kong Bundy

Wrestlemania 12
vs. Diesel

Wrestlemania 13
No DQ WWE Championship
vs. Sycho Sid

Wrestlemania 14
vs. Kane.

Wrestlemania 15
Hell in a Cell
vs. Big Bossman

Wrestlemania X7
vs. Triple H

Wrestlemania X8
No DQ
vs. Ric Flair

Wrestlemania XIX
Handicap Match
vs. Big Show and A-Train

Wrestlemania XX
vs. Kane

Wrestlemania 21
vs. Randy Orton

Wrestlemania 22
Casket Match
vs. Mark Henry

Wrestlemania 23
World Heavyweight Championship
vs. Batista

Wrestlemania 24
World Heavyweight Championship
vs. Edge

Wrestlemania XV
vs. Shawn Michaels

Wrestlemania XVI
Streak vs. Career
vs. Shawn Michaels

Wrestlemania XVII
No Holds Barred
vs. Triple H

Wrestlemania XVIII
Hell in a Cell
vs. Triple H

Wrestlemania XXIX
vs. CM Punk

Wrestlemania XXX
vs. Brock Lesnar

Wrestlemania 31
vs. Bray Wyatt

Wrestlemania 32
Hell in a Cell
vs. Shane McMahon

Wrestlemania 33
No Holds Barred
vs. Roman Reigns

Wrestlemania 34
vs. John Cena

Wrestlemania 35
Boneyard Match
vs. AJ Styles

Related Websites:
https://wwedvd.co.uk/wrestling/limited-edition-undertaker-the-complete-wrestlemania-collection-6-disc-coffin-set-dvd/

Distributor:
Fremantle Home Entertainment