WWE Best of 1997- Dawn of the Attitude 25th Anniversary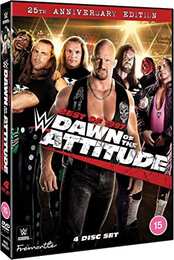 Certificate: 15
Running Time:
Retail Price: £9.99
Release Date: 04/04/2022
Content Type: TV Series
Synopsis:
Best of 1997 – Dawn Of The Attitude [25th Anniversary Edition] 4 Disc set!

The year was 1997… Bill Clinton was president of the United States, pop groups like the Backstreet Boys and the Spice Girls were dominating the music charts, and WWE was experiencing an era of great transformation. It was the birth of attitude and WWE was pushing the limits of entertainment like never before.

For the first time ever, Shawn Michaels, Mick Foley, Ron Simmons, The Godfather, and Kane, sit together with host Renee Young and share their behind-the-scenes experiences during those unforgettable years in WWE history. Witness the rise of Stone Cold Steve Austin, the birth of D-Generation X, the summer of The Hart Foundation, and how The Attitude Era was created with one pivotal year in WWE history.

Welcome to Best of 1997: Dawn of the Attitude.

Also featuring The Rock, Undertaker, Sycho Sid, Goldust, Sable, Ken Shamrock, D-Lo Brown & more!

This Special 25th Anniversary Edition includes an extra Disk filled with amazing matches from this defining era.
Special Features:
Matches and Moments include:

Royal Rumble
WWE Championship
Sycho Sid vs. Shawn Michaels

Bret Hart vs. Mankind

European Championship Tournament Final
Owen Hart vs. British Bulldog

Steel Cage match for WWE Championship
Bret Hart vs. Sycho Sid

Slammy Awards: Owen Hart Acceptance Speech

Wrestlemania 13
Submission Match with Ken Shamrock as Special Referee
Bret Hart vs. Stone Cold Steve Austin

Streetfight
Bret Hart vs. Stone Cold Steve Austin

Jim Ross interviews Mick Foley

King of the Ring
King of the Ring Final
Hunter Hearst Helmsley vs. Mankind

Bret Hart's Anti-American Tirade

World Tag Team Championship
Owen Hart and British Bulldog vs. Stone Cold Steve Austin

Flag Match
The Hart Foundation vs. Stone Cold Steve Austin, Dude Love and The Undertaker

In Your House: Ground Zero
Shawn Michaels vs. The Undertaker

One Night Only
European Championship
British Bulldog vs. Shawn Michaels

Stone Cold Steve Austin stuns McMahon

Survivor Series
Kane vs. Mankind

Survivor Series
WWE Championship
Bret Hart vs. Shawn Michaels

In Your House: D-Generation X
Intercontinental Championship Match
The Rock vs. Stone Cold Steve Austin

Sable in a Potato Sack

European Championship Match
Shawn Michaels vs. Triple H

Shotgun Saturday Night
Goldust vs. The Sultan

Wrestlemania 13
No DQ Match for WWE Championship
Sycho Sid vs. The Undertaker

Summerslam
Steel Cage Match
Triple H vs. Mankind

Raw
Streetfight
Triple H vs. Cactus Jack

Raw Moment
Stone Cold Meets The Rock

Related Websites:
https://wwedvd.co.uk/wrestling/best-of-1997-dawn-of-the-attitude-25th-anniversary-edition-pre-order-dvd/

Distributor:
Fremantle Home Entertainment