Deceit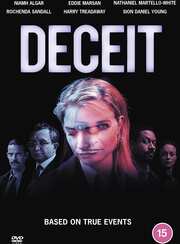 Certificate: 15
Running Time: 187 Mins
Retail Price: £12.99
Release Date: 20/09/2021
Content Type: TV Series
Synopsis:
True crime drama based on a dangerous, high profile honey trap.

Five months on from the brutal murder of Rachel Nickell on Wimbledon Common and the Met Police are still no closer to capturing the man they're convinced is responsible. First identified through a television appeal, the evidence is stacked against Colin Stagg. The police are determined to catch the man who, in their eyes, is guilty before he kills again.

In desperation, the relatively young detective inspector leading the case, engages the nation's most famous criminal profiler to devise a bold undercover operation which will see an attractive, young female officer start a relationship with Colin Stagg.

This gripping new drama examines the honeytrap at the heart of the investigation into the murder of Rachel Nickell, a young mother, brutally attacked in front of her two-year-old son on Wimbledon Common in London in 1992.

Fuelled by incessant media headlines and public interest, there is a climate of fear and a national obsession with catching the killer before he strikes again. Under enormous pressure Criminal Profiler Paul Britton (Eddie Marsan, The Pact ) and Detective Inspector Keith Pedder (Harry Treadaway, Penny Dreadful) devise a unique and dangerous undercover operation fronted by an ambitious female officer, Sadie Byrne (Niamh Algar, The Virtues), tasked with forming a relationship with the prime suspect, Colin Stagg (Sion Daniel Young, Keeping Faith). Also starring Rochenda Sandall (Criminal: UK) and Nathaniel Martello-White (Small Axe).
Special Features:
Cast Interviews

A Backdrop for Deceit

Spinning a Web of Deceit

Looking the Part

Related Websites:
https://acornmediainternational.com/index.html

Directed By:
Niall Maccormick

Written By:
Emilia Di Girolamo

Starring:
Niamh Algar
Eddie Marsan
Harry Treadaway
Sion Daniel Young
Rochenda Sandall
Nathaniel Martello-White