Total Recall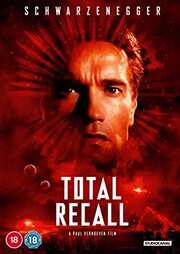 Certificate: 18
Running Time: 112 Mins
Retail Price: £11.99
Release Date: 23/11/2020
Content Type: Movie
Synopsis:
Get ready for a surprise, with a mind-blowing 4K restoration of the much loved sci-fi action classic, TOTAL RECALL, directed by Paul Verhoeven.

In celebration of Total Recall's 30th anniversary, this collection is one you won't forget. Starring Arnold Schwarzenegger (Douglas Quaid) and Sharon Stone (Lori Quaid), accompanied by an iconic soundtrack by Academy Award-winner Jerry Goldsmith this is the ultimate version of the cult classic.

A brand new 4K 30th anniversary restoration, approved by Paul Verhoeven

Earth, 2048. Douglas Quaid is haunted by recurring dreams of another life on Mars. He is drawn to Rekall Incorporated, a travel service specialising in implanting fantasies in the minds of those who wish to turn their dreams into reality – dreams as real as a memory in your mind. But something goes wrong and the procedure unlocks memories that were supposed to be left hidden...
Special Features:
Total Excess: How Caralco Changed Hollywood

Audio Commentary by Paul Verhoeven & Arnold Schwarzenegger

Open Your Mind: Scoring Total Recall

Models and Skeletons: The Special Effects of Total Recall

The Making of Total Recall

Imagining Total Recall

Related Websites:
http://www.studiocanal.co.uk/AtHome

Directed By:
Paul Verhoeven

Written By:
Ronald Shusett
Dan O'Bannon
Gary Goldman

Starring:
Arnold Schwarzenegger
Sharon Stone
Rachel Ticotin
Ronny Cox
Michael Ironside

Soundtrack By:
Jerry Goldsmith