WWE Attitude Era – The Complete Collection (Vols 1-3)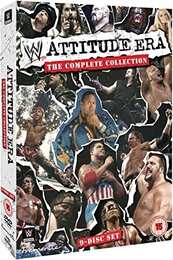 Certificate: 15
Running Time: 1184 Mins
Retail Price: £26.99
Release Date: 28/09/2020
Content Type: TV Series
Synopsis:
Are you ready? Then give me a "hell yeah!"

Bust out your Austin 3:16 shirt, strike a 5-second pose and heat up a delicious slice of pie as you relive one of the greatest periods in sports-entertainment history with WWE Attitude Era - The Complete Collection!

Go back to the days of dysfunction, disorder and defiance when radical antiheroes ditched saying their prayers and taking their vitamins for opening up a can of whoop ass and laying the SmackDown!

This 9-disc slobberknocker contains WWE Attitude Era. Vol. 1-3, so grab yourself a Steve-Weiser and kick back with over 19 hours of action featuring Stone Cold Steve Austin, The Rock, Undertaker, Triple H, Mick Foley, Kane, Trish Stratus, DX and more!
Special Features:
Matches

Volume 1
Sable vs. Marvelous Marc Mero

Brawl for All
Bart Gunn vs. 'Dr Death' Steve Williams

Four Corners Tag Team Match for the WWE Tag Team Championship
Stone Cold Steve Austin and The Undertaker vs. The New Age Outlaws vs. The Rock and Owen Hart vs. Kane and Mankind

Summerslam 1998
Lion's Den Match
Ken Shamrock vs. Owen Hart

Survivor Series 1998
Finals of WWE Championship Tournament
Mankind vs. The Rock

WWE Championship
The Undertaker vs. Stone Cold Steve Austin

Summerslam 1999
European and Intercontinental Championship
DLo Brown vs. Jeff Jarrett

Buried Alive Match for WWE Tag Team Championship
The Rock and Mankind vs. The Undertaker and Big Show

The Godfather and DLo Brown vs. Too Cool

WWE Hardcore Championship
Crash Holly vs. Hardcore Holly

WWE European Championship
Chris Jericho vs. Edde Guerrero

Fully Loaded 2000
Steel Cage Match for Intercontinental Championship
Rikishi vs. Val Venis

Summerslam 2000
TLC Match for WWE Tag Team Championship
Edge and Christian vs. The Hardy Boyz vs. The Dudley Boyz

Armageddon 2000
Hell in a Cell for the WWE Championship
Kurt Angle vs. The Rock vs. The Undertaker vs. Rikishi vs. Stone Cold Steve Austin vs. Triple H

WWE Women's Championship
Stephanie McMahon-Helmsley vs. Lita

The Dudley Boyz vs. The Hardy Boyz

Volume 2

Slammy Awards – 16 March 1997
Miss Slammy Swimsuit Competition
Sunny vs. Sable vs. Marlena vs. The Funkettes

Raw – 29 December 1997
Owen Hart vs. Shawn Michaels

Raw – 26 January 1998
New Age Outlaws vs. Cactus Jack & Chainsaw Charlie

Royal Rumble – 18 January 1998
WWE Intercontinental Championship Match
The Rock vs. Ken Shamrock

Raw – 13 April 1998
Stone Cold Steve Austin vs. Mr. McMahon

Raw – 20 April 1998
Owen Hart & Legion of Doom vs. Triple H & New Age Outlaws

Raw – 8 June 1998
D-Generation X Takes New York

Raw – 6 July 1998
Falls Count Anywhere #1 Contender's For WWE Championship Match
Mankind vs. "Kane"

Fully Loaded – 26 July 1998
Bikini Contest
Sable vs. Jacqueline

Raw – 3 August 1998
Val Venis & Taka Michinoku vs. KaiEnTai

Raw – 14 September 1998
WWE Championship Match
Stone Cold Steve Austin vs. Ken Shamrock

Raw – 21 September 1998
Boot Camp Match for Al Snow's Contract
Al Snow vs. Sgt. Slaughter

Raw – 28 September 1998
Six-Man Elimination #1 Contender's Match for European Championship
Edge vs. Gangrel vs. D'Lo Brown vs. Jeff Jarrett vs. Droz vs. Marc Mero

Raw – 23 November 1998
WWE Championship Match
The Rock vs. X-Pac

Rock Bottom – 13 December 1998
Godfather & Val Venis vs. Mark Henry & D'Lo Brown

Raw – 11 January 1999
Triple H vs. Edge

Raw – 1 March 1999
Kane's Career on the Line
Stone Cold Steve Austin vs. Kane

Raw – 15 March 1999
WWE Hardcore Championship Match
Hardcore Holly vs. Bad Ass Billy Gunn

Raw – 5 April 1999
Handicap Match
Big Show vs. Triple H & The Rock

Raw – 12 April 1999
WWE Intercontinental Championship Match
Goldust vs. Godfather

Shotgun Saturday Night – 17 April 1999
Hardy Boyz vs. Edge & Christian

Raw – 17 May 1999
Casket Match
The Rock vs. Undertaker

Heat – 13 June 1999
WWE Intercontinental Championship Match
Jeff Jarrett vs. Test

Raw – 9 August 1999
WWE Tag Team Championship Match
Acolytes vs. Kane & X-Pac

Raw – 13 March 2000
WWE European Championship Triple Threat Match
Kurt Angle vs. Chris Jericho vs. Tazz

Raw – 8 May 2000
WWE Intercontinental Championship Match
Chris Jericho vs. Kurt Angle

Heat – 18 June 2000
Eddie Guerrero vs. Dean Malenko

Smackdown – 24 August 2000
Intergender Tag Team Match
The Rock & Lita vs. Kurt Angle & Stephanie McMahon-Helmsley

Heat – 17 September 2000
WWE Women's Championship Triple Threat Match
Lita vs. Ivory vs. Jacqueline

Raw – 5 June 2000
WWE Hardcore Championship Match
Gerald Brisco vs. Crash Holly

King of the Ring – 25 June 2000
WWE Hardcore Championship Evening Gown Match
Gerald Brisco vs. Pat Patterson

Raw – 31 July 2000
Intergender Tag Team Match
The Rock & Lita vs. Triple H & Trish Stratus

Special Features:
Raw – 20 April 1998
The Undertaker Attends His Parents' Funeral

Heat – 2 August 1998
#1 Contender's Match for the WWE Tag Team Championship
Kane & Mankind vs. Owen Hart & The Rock

Raw – 3 August 1998
Golga vs. Marc Mero

Raw – 4 January 1999
WWE Hardcore Championship Match
Al Snow vs. Road Dogg

Raw – 3 May 1999
Lumberjack Match
Stone Cold Steve Austin vs. The Rock

Heat – 16 May 1999
Gangrel & Christian vs. Droz & Prince Albert

Smackdown – 16 September 1999
WWE Championship Match
Triple H vs. Mr. McMahon


Fully Loaded – 23 July 2000
Last Man Standing Match
Triple H vs. Chris Jericho

Volume 3

Stone Cold Steve Austin vs. Bret "Hit Man" Hart
Germany • April 1996

The Undertaker vs. Mankind
[Non-Televised] In Your House: Good Friends, Better Enemies • April 28, 1996

The Undertaker & Bret "Hit Man" Hart vs. Owen Hart & The British Bulldog
Kuwait City, Kuwait • May 12, 1996

WWE Championship Match
Stone Cold Steve Austin vs. Shawn Michaels
Kuwait City, Kuwait • May 12, 1996

The Ultimate Warrior vs. Owen Hart
Madison Square Garden • May 19, 1996

Stone Cold Steve Austin vs. The Undertaker
Madison Square Garden • August 9, 1996

WWE Championship Match
Shawn Michaels vs. Goldust
[Non-Televised] In Your House: Buried Alive • October 20, 1996

Shawn Michaels vs. Mankind
[Non-Televised] In Your House: It's Time • December 15, 1996

Triple Threat Match for the WWE Championship
Shawn Michaels vs. Bret "Hit Man" Hart vs. Sycho Sid
[Non-Televised] RAW • February 3, 1997

The Nation of Domination vs. Stone Cold Steve Austin, The Undertaker, Cactus Jack & Chainsaw Charlie
[Non-Televised] RAW • December 29, 1997

WWE Intercontinental Championship Match
The Rock vs. Ken Shamrock
Anaheim, CA • March 13, 1998

Falls Count Anywhere Match
Cactus Jack vs. Billy Gunn
Madison Square Garden • March 22, 1998

Stone Cold Steve Austin vs. Triple H
Madison Square Garden • March 22, 1998

Triple H vs. The Big Show
Madison Square Garden • June 26, 1999

The Dudley Boyz vs. Test & Albert
Wall St, New York City, NY • October 25, 2000

Yokozuna vs. The Sultan
Sun City, South Africa • September 14, 1996

Stone Cold Steve Austin vs. Goldust
[Non-Televised] In Your House: It's Time • December 15, 1996

The Undertaker, Goldust & Ahmed Johnson vs. The Nation of Domination
[Non-Televised] RAW • March 17, 1997

Stone Cold Steve Austin vs. The Undertaker
Toronto, ON, Canada • June 14, 1997

Shawn Michaels & Triple H vs. The Legion of Doom
Uniondale, NY • October 24, 1997

Stone Cold Steve Austin & Cactus Jack vs. The Rock & D'Lo Brown
Madison Square Garden • January 10, 1998

Stone Cold Steve Austin, Cactus Jack & Chainsaw Charlie vs. The Rock & The New Age Outlaws
Meadowlands, NJ • February 22, 1998

Stone Cold Steve Austin vs. Triple H
Anaheim, CA • March 13, 1998

Stone Cold Steve Austin vs. The Undertaker
Madison Square Garden • June 26, 1999

Hardy Boyz vs. Lo Down
Wall St, New York City, NY • October 25, 2000

Related Websites:
https://wwedvd.co.uk/wrestling/attitude-era-the-complete-collection-vols-1-3-pre-order-dvd/

Distributor:
Fremantle Home Entertainment