Review of Evil Dead 2
Video
The image quality of this disc isnt bad, very little grain and good sharpness/contrast, especially when you consider the overly dark lighting and the fact very little of this film isn`t shot in a bleak way. I`ve seen this movie on TV, and VHS, neither of those matched the quality of this disc. It aint the best in the world, but is definitely the best print of the film I`ve ever come across. Some features dark features totally lost on the VHS copy I last viewed where here clear as day, or rather night, well you get the idea.
Live effects are really exceptionally well done, the makeup particularly. Original it is in places, unoriginal in others, but always done better than in any other horror movie. Unfortunately, and this is such a shame, the excessive use of stop motion has aged beyond belief. We are talking almost Jason and his Arganoughts bad here. They take what is a very scary story and make it just highly amusing in places, forget remaking Star Wars effects, Evil Dead 2 is just crying out for a reshooting!
I know that the running time is under 1 hour 30, but 12 chapter stops is just not enough. Much skipping is required to find your favourite scenes, so these get an E minus, must do A LOT better. Layer change is next to unnoticeable however, not that this makes up for the former.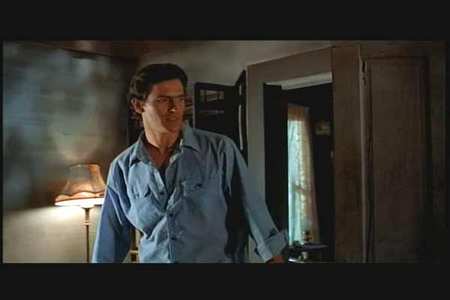 Audio
The only audio track is stereo, and it is barely that in most places. Always a shame when a classic film like this gets absolutely no re-treatment at all. The sound effects are very good, and the music fits in very nicely with the whole atmosphere and style of the film, but it`s all basically pretty much a mono to barely stereo affair all the way through, such a shame as Evil Dead 2 was released in 1988.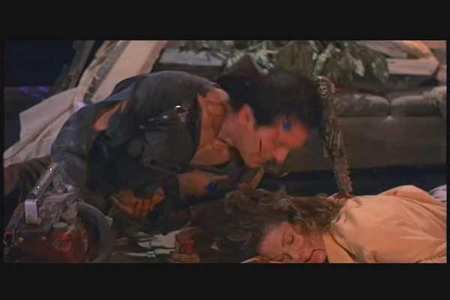 Features
There aren`t many features on this disc, in fact apart from a trailer there are none at all. The animated menu is quite nice I guess, but my Pioneer 505 player freezes on it which is a bit of a shame, although having seen what it does on a different machine, you really aren`t missing much.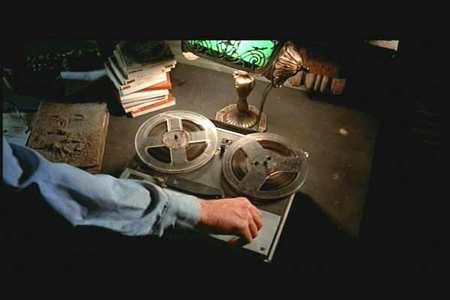 Conclusion
This is my all-time favourite horror movie, from the day I saw Evil Dead 2, it made a huge impression on me. The fact it gets going within the first 5 minutes and never really lets up, combined with the excellent camera angles, added to what is every horror cliche in the book, all adds up to a great experience. There are some continuity errors though, and the odd bad dubbing too, but I rate this as a classic for it`s sheer originality of direction.
However the stop-motion effects have really dated badly, and you may find them a distraction from any fear you may encounter. But, if your a horror fan, then this has to be in your collection, although with Special Editions already out (or imminent) of the other two in this trilogy, it may be a good idea to wait and see if one gets released for Evil Dead 2.