WWE: Smackdown 20th Anniversary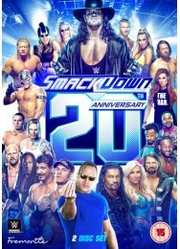 Certificate: 15
Running Time: 370 Mins
Retail Price: £12.99
Release Date: 14/10/2019
Content Type: TV Series
Synopsis:
Beginning as a legendary catchphrase and transforming into a television phenomenon, SmackDown has become the home of unforgettable television, captivating Superstars, and incredible action.

Launching the careers of The Rock, John Cena, Batista, Brock Lesnar, Becky Lynch, JBL, Rey Mysterio, Charlotte Flair, and others, the blue brand has made a lasting impression in the minds of the WWE Universe.

Now, in this historic collection, relive the greatest matches and moments from SmackDown's 20-year history, and witness the influence SmackDown has had on WWE's history.
Special Features:
2 Disk Features:

So Many Memories

WWE Championship Match
Triple H vs. The Rock
Special Guest Referee: Shawn Michaels
SmackDown • August 26, 1999

Triple Threat Match for the WWE Hardcore Championship
Crash Holly vs. Mosh vs. Thrasher
SmackDown • March 16, 2000

WWE Hardcore Championship Match
Crash Holly vs. Gerald Brisco
SmackDown • May 18. 2000

Thanksgiving Food Fight
SmackDown • November 23, 2000

Chris Jericho vs. Rhyno
SmackDown • August 9, 2001

Come Get Your Medals
SmackDown • August 30, 2001

The World Comes Together

Vince McMahon's Post-9/11 Address
SmackDown • September 13, 2001

Price Check
SmackDown • December 13, 2001

You're Hired Stacy!
SmackDown • April 11, 2002

Kurt Angle vs. John Cena
SmackDown • June 27, 2002

WWE Tag Team Championship Match
Billy & Chuck vs. Edge & Hulk Hogan
SmackDown • July 4, 2002

Steel Cage Match
Chris Jericho vs. Edge
SmackDown • July 25, 2002

No Disqualification Match
Eddie Guerrero vs. Edge
SmackDown • September 26, 2002

WWE Cruiserweight Championship Match
Matt Hardy vs. Rey Mysterio
SmackDown • June 5, 2003

WWE Championship Match
Brock Lesnar vs. Big Show
SmackDown • June 12, 2003

Mr. McMahon Addresses The Troops
SmackDown • December 25, 2003

Lying, Cheating, Celebrating!
SmackDown • February 19, 2004

Sexy Kurt
SmackDown • March 24, 2005

WWE Tag Team Championship Match
MNM vs. Batista & Rey Mysterio
SmackDown • December 16, 2005

King Booker's Coronation
SmackDown • May 26, 2006

Twist of Fortune!
SmackDown • December 19, 2008

WWE World Heavyweight Championship Steel Cage Match
CM Punk vs. Jeff Hardy
SmackDown • August 28, 2009

Thank You Edge

WWE World Heavyweight Championship Match
Christian vs. Randy Orton
SmackDown • May 6, 2011

Women's Money in the Bank Ladder Match
Charlotte Flair vs. Natalya vs. Tamina vs. Becky Lynch vs. Carmella
SmackDown • June 27, 2017

The Pride of Bulgaria
SmackDown • September 26, 2017

WWE Championship Match
Jinder Mahal vs. AJ Styles
SmackDown • November 7, 2017

WWE Tag Team Championship Match
The Bludgeon Bros vs. The New Day
SmackDown • August 21, 2018

WWE Championship Match
AJ Styles vs. Daniel Bryan
SmackDown • November 13, 2018

Kofi Kingston vs. Kevin Owens
SmackDown • May 8, 2019

Happy 20th SmackDown!

Related Websites:
https://www.wwedvd.co.uk/smackdown-20th-anniversary-order-p-12706.html

Distributor:
Fremantle Home Entertainment