WWE: Getting Rowdy - The Unreleased Matches of Roddy Piper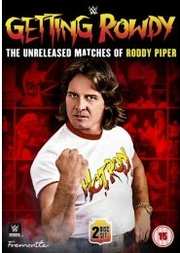 Certificate: 15
Running Time: 325 Mins
Retail Price: £14.99
Release Date: 02/09/2019
Content Type: TV Series
Synopsis:
Just when you think you have all the answers, he changes the questions!

Unearthed from deep within the WWE vault comes unreleased matches and interviews from one of the most controversial and entertaining Superstars in WWE history, "Rowdy" Roddy Piper.

Witness "Mr. Wonderful" Paul Orndorff, "Mr. Perfect" Curt Hennig, "Ravishing" Rick Rude, and more, pay the piper against Roddy in this collection of hidden gems.

So put on your kilt, set the bagpipes aside and LET'S GET ROWDY!
Special Features:
October 14, 1981
"Rowdy" Roddy Piper vs. Jay Youngblood

November 18, 1981
"Rowdy" Roddy Piper & Ole Anderson vs. Mike Davis & Buddy Landell

February 20, 1982
"Rowdy" Roddy Piper vs. Tony Anthony

January 26, 1984
Piper's Pit with "Mr. Wonderful" Paul Orndorff

February 14, 1984
"Rowdy" Roddy Piper & "Mr. Wonderful" Paul Orndorff vs. Jose Luis Rivera & S.D. Jones

March 27, 1984
"Rowdy" Roddy Piper vs. S.D. Jones

July 7, 1984
"Rowdy" Roddy Piper vs. "Superfly" Jimmy Snuka

July 22, 1984
I'm a Nice Guy

February 16, 1985
Equal Opportunist

March 9, 1985
Snuka's Life Story

March 30, 1985
The Hot Seat

July 20, 1985
"Rowdy" Roddy Piper vs. "Mr. Wonderful" Paul Orndorff

August 31, 1985
Piper's Pit with Andre the Giant

October 18, 1986
Piper's Pit with Jimmy Hart

November 9, 1986
"Rowdy" Roddy Piper vs. Mr. Fuji

November 29, 1986
Piper's Pit with Jimmy Hart

December 20, 1986
Piper's Pit with The Hart Foundation

October 8, 1989
"Rowdy" Roddy Piper vs. "Ravishing" Rick Rude

April 24, 1990
Intercontinental Championship Tournament Match
"Rowdy" Roddy Piper vs. Rick "The Model" Martel

November 20, 1990
"Rowdy" Roddy Piper vs. Mr. Perfect

"Rowdy" Roddy Piper Action Figure Commercial #1

"Rowdy" Roddy Piper Action Figure Commercial #2

"Rowdy" Roddy Piper Action Figure Commercial #3

February 17, 1991
"Mean" Gene Okerlund interviews "Rowdy" Roddy Piper & Virgil

March 19, 1991
Intercontinental Championship Match
"Rowdy" Roddy Piper vs. Mr. Perfect

March 15, 1992
"Mean" Gene Okerlund interviews "Rowdy" Roddy Piper & Bret "Hitman" Hart

March 29. 1992
"Rowdy" Roddy Piper vs. Sonny Beach

April 29, 1992
Piper's Pit with The Brooklyn Brawler

February 3, 1997
"Mean" Gene Okerlund interviews "Rowdy" Roddy Piper

February 17, 1997
Greetings from Alcatraz

September 22, 1997
"Mean" Gene Okerlund interviews "Rowdy" Roddy Piper

March 23, 1998
"Rowdy" Roddy Piper vs. "Macho Man" Randy Savage

March 30, 1998
"Rowdy" Roddy Piper vs. Hollywood Hogan

April 24, 2003
"Rowdy" Roddy Piper vs. Rikishi

October 7, 2005
Handicap Match
"Rowdy" Roddy Piper vs. Randy Orton & "Cowboy" Bob Orton

October 28, 2005
"Rowdy" Roddy Piper, Batista & Eddie Guerrero vs. Mr. Kennedy, Randy Orton & "Cowboy" Bob Orton

April 28, 2008
Do the Truffle Shuffle

June 13, 2011
Piper's Pit with The Miz

November 28, 2011
Piper's Pit with John Cena

April 13, 2012
Piper's Pit with Daniel Bryan & AJ Lee

January 6, 2014
Piper's Pit with The Shield

December 22, 2014
Piper's Pit with Rusev & Lana

Related Websites:
https://www.wwedvd.co.uk/getting-rowdy-unreleased-matches-roddy-piper-order-p-12685.html?osCsid=607b0bf2a9d3be7dc74256d66979b871

Distributor:
Fremantle Home Entertainment