Space 1999: Volume 4 (UK)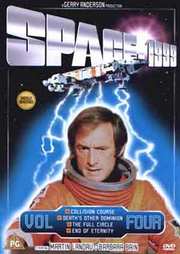 The fourth DVD of the classic 1975 sci-fi series
Certificate: PG
Running Time: 200 mins
Retail Price: £15.99
Release Date:
Content Type: TV Series
Synopsis:
Gerry Anderson`s live action space spectacular broke new ground in sci-fi TV. Starring Oscar winner Martin Landau in the role that shot him to fame, Space 1999 first aired in 1975 and is acknowledged as a landmark series that set the standard for great sci-fi on the small screen.
September 13th 1999: A freak explosion on the moon sends Moonbase Alpha, Commander John Koenig (Landau), Dr Helena Russell (Bain) and 309 men and women hurtling out of orbit into darkest deep space.

Collision Course
Carter is caught in the explosion of an asteroid but is saved by the intervention of an alien women.

Death`s Other Dominion
Koenig, Helena, Bergman and Carter land on the frozen planet of Ultima Thurle and find themselves lost in a blizzard.

The Full Circle
Eagle Six returns to Alpha after a reconnaissance mission to the planet Retha, but the crew are missing and the only occupant is a dead cave man.

End Of Eternity
Investigating a passing asteroid which appears to have an internal atmosphere, the Alphans blast their way into a living chamber inside.
Special Features:
Interactive Menus
Scene Access
Space 1999 Memorabilia
Behind the Scenes
Director`s Biographies

Video Tracks:
Standard 1.33:1

Audio Tracks:
Dolby Digital Mono English

Subtitle Tracks:
CC: English

Starring:
Zienia Merton
Nick Tate
Barbara Bain
Martin Landau

Soundtrack By:
Derek Wadsworth
Barry Gray

Editor:
Alan Killick
Derek Chambers
Mike Campbell

Costume Designer:
Eileen Sullivan
Emma Porteus
Rudi Gernreich

Production Designer:
Keith Wilson

Producer:
Fred Freiberger
Sylvia Anderson

Executive Producer:
Gerry Anderson

Distributor:
Carlton