WWE: Trish & Lita - Best Friends, Better Rivals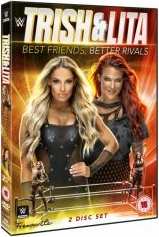 Certificate: 15
Running Time:
Retail Price: £12.99
Release Date: 10/06/2019
Content Type: TV Series
Synopsis:
Arguably the two most significant pioneers of the early women s evolution, Trish Stratus and Lita will forever be linked as generational talents that broke barriers and changed the game.

As the millennium turned, these two women transcended the term diva and attained a level popularity that rivalled any of the top male superstars of their time.

Now, relive their long-standing historic rivalry with each other, as well as each of their individual battles.

Featuring 21 Matches from both and also includes both of their Hall of Fame Inductions.
Special Features:
Matches:
Albert w/ Trish Stratus vs. Crash
Metal • October 14, 2000

Trish Stratus vs. Lita
RAW • October 23, 2000

6-Pack Challenge Match for the WWE Women's Championship
Trish Stratus vs. Lita vs. Ivory vs. Molly Holly vs. Jacqueline vs. Jazz
Survivor Series • November 18, 2001

Triple Threat Match for the WWE Women's Championship
Trish Stratus vs. Lita vs. Jazz
WrestleMania X8 • March 17, 2002

WWE Women's Championship Match
Trish Stratus vs. Molly Holly
Unforgiven • September 22, 2002

Triple Threat Match for the WWE Women's Championship
Trish Stratus vs. Victoria vs. Jazz
WrestleMania XIX • March 30, 2003

Trish Stratus and Christian vs. Chris Jericho
Backlash • April 18, 2004

WWE Women's Championship Match
Trish Stratus vs. Lita
New Year's Revolution • January 9, 2005

WWE Women's Championship Match
Trish Stratus vs. Mickie James
WrestleMania 22 • April 2, 2006

Trish Stratus vs. Mickie James
RAW • September 11, 2006

WWE Women's Championship Match
Trish Stratus vs. Lita
Unforgiven • September 17, 2006

10-Woman Tag Team Match
Trish Stratus, Lita, Bayley, Sasha Banks, and Natalya vs. Mickie James, Alicia Fox, and The Riott Squad
RAW • October 29, 2018

WWE Cruiserweight Championship Match
Essa Rios w/ Lita vs. Gillberg
Sunday Night Heat • February 13, 2000

The Hardy Boyz and Lita vs. T and A and Trish Stratus
Fully Loaded • July 23, 2000

Lita and The Rock vs. Trish Stratus and Triple H
RAW • July 31, 2000

WWE Women's Championship Match
Lita vs. Stephanie McMahon-Helmsley
RAW • August 21, 2000

Lita and Trish Stratus vs. Gail Kim and Molly Holly
Unforgiven • September 21, 2003

Steel Cage Match
Lita vs. Victoria
RAW • November 24, 2003

WWE Women's Championship Match
Lita vs. Trish Stratus
RAW • December 6, 2004

WWE Women's Championship Match
Lita vs. Mickie James
RAW • August 14, 2006

Lumberjill Match for the WWE Women's Championship
Lita vs. Mickie James
Cyber Sunday • September 5, 2006

Lita vs. Heath Slater
RAW 1000 • July 23, 2012

Lita Hall of Fame Induction
Hall of Fame • April 5, 2014

Lita Reveals New WWE Women's Championship
WrestleMania 32 • April 3, 2016

Lita & Trish Stratus vs. Mickie James & Alicia Fox
Evolution • October 28, 2018

4 Extra Moments:

Lita Hall of Fame Induction
Hall of Fame • April 5, 2014

Trish Stratus Hall of of Fame Induction
Hall of Fame • April 6, 2013

Lita and Kane's Wedding Ceremony
RAW • August 23, 2004

Lita Reveals New WWE Women's Championship
WrestleMania 32 • April 3, 2016

Related Websites:
https://www.wwedvd.co.uk/trish-lita-best-friends-better-rivals-order-p-12675.html?osCsid=51b7d2df8f1cba3cf67bdec7acc2cf69

Distributor:
Fremantle Home Entertainment