Andre The Giant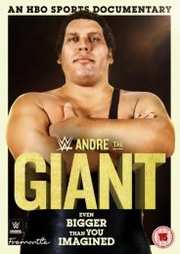 Certificate: 15
Running Time:
Retail Price: £12.99
Release Date: 06/05/2019
Content Type: TV Series
Synopsis:
From HBO Sports, WWE, JMH Films and Ringer Films comes Andre The Giant, a documentary examining the life and career of one of the most beloved legends in WWE history.

The ambitious, wide-ranging film explores Andre s upbringing in France, his celebrated WWE career and his forays into the entertainment world.

It includes interviews with Vince McMahon, Hulk Hogan, Ric Flair, Arnold Schwarzenegger, Billy Crystal, Rob Reiner, family members and more.

Plus includes some of Andre's greatest WWE matches including the WrestleMania Body Slam Match against Big John Stud, the legendary encounter with Hulk Hogan at WrestleMania 3, and more!
Special Features:
Full HBO Documentary

Matches:

All-Star Wrestling – August 30, 1978
Handicap Match
Andre the Giant vs. Jose Estrada & Tony Russo

Showdown at Shea – August 9, 1980
Andre the Giant vs. Hulk Hogan

Philadelphia, PA – September 24, 1983
Steel Cage Match
Andre the Giant vs. Big John Studd

WrestleMania – March 31, 1985
$15,000 Body Slam Match
Andre the Giant vs. Big John Studd

WrestleMania 2 – April 7, 1986
WWE & NFL Battle Royal

WrestleMania 3 – March 29, 1987
WWE Championship Match
Andre the Giant vs. Hulk Hogan

The Main Event – February 5, 1988
WWE Championship Match
Andre the Giant vs. Hulk Hogan

Related Websites:
https://www.wwedvd.co.uk/andre-giant-order-p-12669.html?osCsid=b0a8036b558ddadddca658424d7193eb

Distributor:
Fremantle Home Entertainment