Starship Troopers (Reissue) (UK)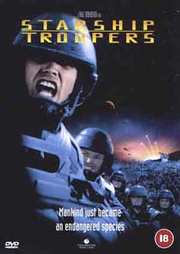 Prepare for battle
Certificate: 18
Running Time: 124 mins
Retail Price: £17.99
Release Date:
Content Type: Movie
Synopsis:
Would you like to know more?

The Federation needs you for an urgent do-or-die mission in `Starship Troopers`, the ultimate sci-fi action thriller from the director of Total Recall... hailed for its mind-blowing special effects and amazing futuristic settings! The new millennium brings man face to face with the deadliest enemy of all... an intelligent race of alien bugs, some thirty feet tall, some that fly and all capable of destroying every living thing on Earth!

That`s where brave young freedom fighter Johnny Rico comes in. While Johnny trains in an elite infantry unit, his stunning girlfriend Carmen becomes a top fighter pilot - but is seduced by a suave flight instructor! Join their mission to the aliens` home planet where an all-out intergalactic war is about to begin and with the future of mankind on the line.

Epic filmmaking and jarring action sequences that put you in the middle of it all make `Starship Troopers` the definitive space-age adventure thriller in this or any universe!

Become A Citizen!
Special Features:
Interactive Menus
Scene Access
Making Of Featurette
Audio Commentary
Scene Development
Deleted Scenes
Screen Tests
Teaser Trailer
Pearl Harbour Trailer

Video Tracks:
Widescreen Anamorphic 1.85:1

Audio Tracks:
Dolby Digital 5.1 English
Dolby Digital 5.1 Spanish
Dolby Digital 5.1 German

Subtitle Tracks:
French
Hebrew
Polish
CC: German
Italian
Swedish
Finnish
English
Spanish
German
CC: English
Greek
Croatian
Danish
Norwegian

Directed By:
Paul Verhoeven

Written By:
Edward Neumeier
Robert A. Heinlein

Starring:
Michael Ironside
Patrick Muldoon
Seth Gilliam
Clancy Brown
Neil Patrick Harris
Jake Busey
Denise Richards
Dina Meyer
Casper Van Dien

Casting By:
Johanna Ray
Elaine J. Huzzar

Soundtrack By:
Basil Poledouris

Director of Photography:
Jost Vacano

Editor:
Caroline Ross
Mark Goldblatt

Costume Designer:
Ellen Mirojnick

Production Designer:
Allan Cameron

Producer:
Phil Tippett
Edward Neumeier
Alan Marshall
Stacy Lumbrezer
Frances Doel
Jon Davison

Distributor:
Buena Vista