Knights Of Sidonia Complete Season 2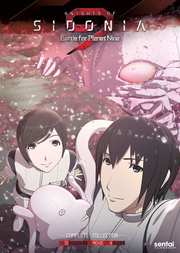 Inhuman allies. Interstellar war. A struggle for survival.
Certificate:
Running Time: 308 mins
Retail Price: $59.98
Release Date: 2016
Content Type: TV Series
Synopsis:
Discovering the nature of one's individual identity is a question every sentient being confronts. Do you only count if you're entirely human? What does it mean to be a person?

In a war with the alien Gauna, capable of absorbing and re-purposing human DNA, these are no longer abstract questions In these uncertain conditions, pilot Nagate Tanikaze finds himself developing an obsession with the Gauna clone of his deceased beloved, Hoshijiro.

Meanwhile, his close friend, Izana, a manufactured non-binary human, goes through an alarming change as their feelings for Nagate grow. Existential and romantic problems will have to wait though, as the Guana step up their attacks and a virtual coup d'état threatens to throw Sidonia's leadership into chaos, while even darker forces stir within.

The very definition of what it means to be human is about to be questioned as the battle to survive continues in KNIGHTS OF SIDONIA SEASON 2: BATTLE FOR PLANET NINE!
Special Features:
Season 1 Compilation Movie
Decisive Battle Broadcast Version
Blame
Trailers
TV Preview
Teaser
Clean Opening and Closing Animations

Video Tracks:
1.78:1 anamorphic widescreen

Audio Tracks:
Dolby Digital 5.1 Surround English
Dolby Digital 5.1 Surround Japanese
Dolby Digital 2.0 Stereo Spanish

Subtitle Tracks:
English
French
Spanish

Directed By:
Kobun Shizuno

Written By:
Sadayuki Murai
Tsutomu Nihei

Starring:
Ryota Ohsaka
Aki Toyosaki
Aya Suzaki
Eri Kitamura
Hisako Kanemoto
Satomi Arai
Sayaka Ohara
Takahiro Sakurai
Johnny Yong Bosch
Alexi Shi
Cristina Valenzuela
Jane Carroll
Joie Marlowe
Lindsay Torrance
Todd Haberkorn
Wendee Lee

Music From:
Noriyuki Asakura

Editor:
Naohiro Yoshihira
Teruaki Shiraishi

Producer:
Kenji Ishimaru
Ryu Hashimoto
Takahiro Yamanaka
Yoshihiko Yamazaki

Executive Producer:
Gou Nakanishi
Hideki Moriya
Hiro Maruyama
Takuya Matsushita

Distributor:
Sentai Filmworks