How To Talk To Girls At Parties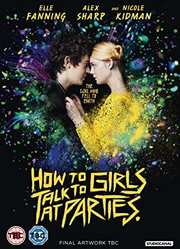 Certificate: 15
Running Time: 112 Mins
Retail Price: £9.99
Release Date: 03/09/2018
Content Type: Movie
Synopsis:
From the visionary minds of writer Neil Gaiman and director John Cameron Mitchell (Hedwig and the Angry Inch, Shortbus) comes a story of the birth of punk, the exuberance of first love, and the universe's greatest mystery of all: HOW TO TALK TO GIRLS AT PARTIES.

Enn (Alex Sharp) is a shy suburban London teenager in 1977, sneaking out with his best friends to after-hours punk parties. One night they stumble upon a bizarre gathering of teenagers who seem like they are from another planet. In fact, they are from another planet, visiting Earth to complete a mysterious rite of passage. That doesn't stop Enn from falling madly in love with Zan (Elle Fanning), a beautiful and rebellious alien teenager who, despite her allegiance to her strange colony, is fascinated by Enn.

Together they embark on a delirious adventure through the kinetic punk rock world of 1970s London, inadvertently setting off a series of events that will lead to the ultimate showdown of punks vs. aliens, and test the limits of how far each of them will go for true love.
Special Features:
Deleted Scene
Cast Interviews
Crew Interviews

Related Websites:
http://www.studiocanal.co.uk/Film/Details/464b79e8-7cc7-4315-9652-a8da00abc964

Directed By:
John Cameron Mitchell

Written By:
Philippa Goslett
John Cameron Mitchell

Starring:
Alex Sharp
Nicole Kidman
Elle Fanning
Ruth Wilson
Matt Lucas