WWE: Shield- Justice For All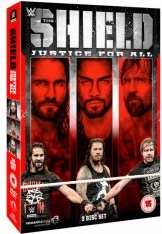 Certificate: 15
Running Time:
Retail Price: £24.99
Release Date: 09/07/2018
Content Type: TV Series
Synopsis:
Sierra…Hotel…India…Echo…Lima…Delta…Shield!

As dominant as Dean Ambrose, Roman Reigns and Seth Rollins were as a trio, they achieved incredible success on their own. Each member became WWE Champion, and competed in some of the biggest matches in WWE history.

Hear from The Hounds of Justice themselves, as they discuss the impact The Shield had on their careers, and how it helped mold them into the main event players they are today.

Follow the journeys of Seth, Dean and Roman as they compete against Superstars like Undertaker, Brock Lesnar, John Cena, Triple H and more! Even when apart, their brotherhood remains strong — and you never know when The Shield might reunite again to battle injustice.

This is The Shield: Justice For All!
Special Features:
Raw – March 30, 2015
United States Championship Match
John Cena vs. Dean Ambrose

TLC – December 13, 2015
Intercontinental Championship Match
Dean Ambrose vs. Kevin Owens

Roadblock – March 12, 2016
WWE Championship Match
Triple H vs. Dean Ambrose

Money in the Bank – June 19, 2016
Money in the Bank Ladder Match
Dean Ambrose vs. Alberto Del Rio vs. Cesaro vs. Chris Jericho vs. Kevin Owens vs. Sami Zayn

Battleground – July 24, 2016
Triple Threat Match for the WWE Championship
Dean Ambrose vs. Seth Rollins vs. Roman Reigns

SmackDown Live – January 3, 2017
Intercontinental Championship Match
The Miz vs. Dean Ambrose

No Mercy – September 24, 2017
Raw Tag Team Championship Match
Dean Ambrose & Seth Rollins vs. Sheamus & Cesaro

Money in the Bank – June 19, 2016
WWE Championship Match
Roman Reigns vs. Seth Rollins

WrestleMania 33 – April 2, 2017
Unsanctioned Match
Seth Rollins vs. Triple H

Survivor Series – November 19, 2017
The Shield vs. The New Day

Raw – February 19, 2018
Gauntlet Match
Seth Rollins vs. Roman Reigns, John Cena, & Elias

WrestleMania – April 8, 2018
Triple Threat Match for the Intercontinental Championship
The Miz vs. Seth Rollins vs. Finn Balor

Survivor Series – November 22, 2015
WWE Championship Match
Roman Reigns vs. Dean Ambrose

Raw – December 14, 2015
WWE Championship Match
Sheamus vs. Roman Reigns

WrestleMania – April 3, 2016
WWE Championship Match
Triple H vs. Roman Reigns

WrestleMania – April 2, 2017
No Holds Barred Match
Roman Reigns vs. The Undertaker

No Mercy – September 24, 2017
Roman Reigns vs. John Cena

Greatest Royal Rumble – April 27, 2018
Steel Cage Match for the Universal Championship
Brock Lesnar vs. Roman Reigns

Related Websites:
https://www.wwedvd.co.uk/shield-justice-order-p-12600.html?osCsid=5qqnst9tlgn5on8t0sls2gpk81

Distributor:
Fremantle Home Entertainment