WWE: Randy Savage Unreleased - The Unseen Matches Of The Macho Man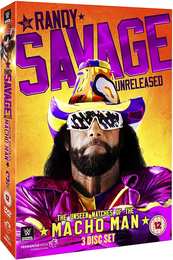 Certificate: 15
Running Time:
Retail Price: £22.99
Release Date: 28/05/2018
Content Type: TV Series
Synopsis:
Macho Man Randy Savage had legendary bouts with Hulk Hogan, Rick Rude, Ricky Steamboat, Jake Roberts, and many others.

The WWE Universe may be familiar with many of them, but there were several excellent matches that have never before made it to DVD...


Includes 41 Matches and other amazing moments that have been hidden in vault of the Macho Madness to make you want to say

OHHHHHHHHHH
YEEEEEAAAAAAAAAAHHHHHHHHHH!!!!!!!!!
Dig It!
Special Features:
June 17, 1985
Macho Man Randy Savage vs. Aldo Marino

July 9, 1985
Macho Man Randy Savage vs. Mario Mancini

August 3, 1985
Macho Man Randy Savage vs. Paul Roma

September 9, 1985
Macho Man Randy Savage & Jesse The Body Ventura vs. Mario Mancini & Mike Rice

November 9, 1985
Macho Man Randy Savage vs. Tony Atlas

December 1, 1985
Macho Man Randy Savage vs. S.D. Jones

January 18, 1986
Macho Man Randy Savage vs. Scott McGhee

August 25, 1986
WWE Intercontinental Championship Match
Macho Man Randy Savage vs. Pedro Morales

September 13, 1986
Macho Man Randy Savage vs. Troy Martin

January 5, 1987
Macho Man Randy Savage & Honky Tonk Man vs. Hulk Hogan & Ricky The Dragon Steamboat

March 21, 1987
Macho Man Randy Savage & Hercules vs. Ricky the Dragon Steamboat & Billy Jack Haynes

May 15, 1987
WWE Intercontinental Championship Match
Macho Man Randy Savage vs. Ricky The Dragon Steamboat

September 24, 1988
WWE Championship Steel Cage Match
Macho Man Randy Savage vs. Million Dollar Man Ted DiBiase

October 7, 1988
WWE Championship Match
Macho Man Randy Savage vs. Akeem

October 24, 1988
WWE Championship Match
Macho Man Randy Savage vs. Andre The Giant

March 7, 1989
Macho Man Randy Savage vs. Ultimate Warrior

April 23, 1989
WWE Championship Match
Macho Man Randy Savage vs. Hulk Hogan

May 16, 1989
Macho Man Randy Savage vs. Brutus The Barber Beefcake

November 1, 1989
Macho King Randy Savage vs. Hercules

July 17, 1990
Mixed Tag Team Match
Macho King Randy Savage & Sensational Queen Sherri vs. Dusty Rhodes & Sapphire

December 22, 1990
Macho King Randy Savage vs. Koko B. Ware

December 2, 1991
Macho Man Randy Savage, Rowdy Roddy Piper & Hacksaw Jim Duggan vs. Ric Flair, Jake The Snake Roberts & Undertaker

December 30, 1991
Macho Man Randy Savage vs. The Barbarian

January 28, 1992
Macho Man Randy Savage & Hulk Hogan vs. Jake The Snake Roberts & The Berzerker

March 10, 1992
Macho Man Randy Savage vs. Jake The Snake Roberts

July 21, 1992
Macho Man Randy Savage & Undertaker vs. Ric Flair & The Berzerker

October 28, 1992
Macho Man Randy Savage vs. Razor Ramon

December 14, 1992
Macho Man Randy Savage vs. Terrific Terry Taylor

March 28, 1993
Macho Man Randy Savage vs. Yokozuna

June 15, 1993
Macho Man Randy Savage vs. The Narcissist Lex Luger

July 26, 1993
Macho Man Randy Savage vs. Mr. Hughes

August 17, 1993
Macho Man Randy Savage & Mr. Perfect vs. Giant Gonzalez & Mr. Hughes

December 13. 1993
Macho Man Randy Savage vs. Fatu

January 25, 1995
Macho Man Randy Savage & Hulk Hogan vs. The Butcher & Kevin Sullivan

May 27, 1995
WCW United States Championship Tournament Second Round Match
Macho Man Randy Savage vs. Stunning Steve Austin

December 25, 1995
WCW World Heavyweight Championship Match
Macho Man Randy Savage vs. Ric Flair

March 25, 1996
Macho Man Randy Savage vs. Kurasawa

April 15, 1996
Macho Man Randy Savage vs. Earl Robert Eaton

August 11, 1997
Macho Man Randy Savage vs. Curt Hennig

December 22, 1997
Macho Man Randy Savage vs. Lex Luger

May 17, 1999
Mixed Tag Team Match
Macho Man Randy Savage & Madusa vs. Ric Flair & Charles Robinson

Related Websites:
https://www.wwedvd.co.uk/randy-savage-unreleased-unseen-matches-macho-p-12568.html?osCsid=6fr8bc7clsdp7m5ealqtqblll7

Distributor:
Fremantle Home Entertainment