Bodacious Space Pirates Abyss of Hyperspace Movie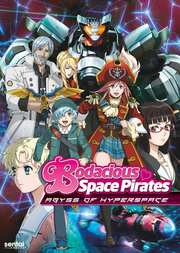 When their mistress and commander commands... It's time for space pirates to kick some booty!
Certificate:
Running Time: 94 mins
Retail Price: $29.98
Release Date: 2016
Content Type: Movie
Synopsis:
In Bodacious Space Pirates: Abyss of Hyperspace, it's not easy being the captain of a space pirate ship. Especially when you're still in high school and aren't allowed to do normal pirate-stuff like rob and plunder.

However, despite those restrictions, Marika Kato has proven herself worthy of commanding the Bentenmaru. And if staging performances such as pretending to board and pillage space cruise ships doesn't pay as well as actually stealing stuff... well, at least no one gets hurt, right?

But things take a sinister turn when Marika and her crew are hired to raid the luxury liner Begin The Beguine. Because one of the passengers has a hidden secret and agenda of his own. And it begins with being kidnapped!

Suddenly the Bentenmaru and their new "hostage" are being pursued by other warships and the race is on for what could be the biggest prize of all! Batten your hatches and prepare to have your timbers shivered as Marika and her crew set sail for their highest adventure yet in BODACIOUS SPACE PIRATES - THE MOVIE!
Special Features:
Textless Credits
Trailers
Promos

Video Tracks:
1.78:1 anamorphic widescreen

Audio Tracks:
Dolby Digital 5.1 Surround Japanese
Dolby Digital 5.1 Surround English

Subtitle Tracks:
English

Directed By:
Tatsuo Sato

Written By:
Tatsuo Sato
Yuichi Sasamoto

Starring:
Kana Hanazawa
Masaya Matsukaze
Mikako Komatsu
Shizuka Itou
Ai Kayano
Chiaki Omigawa
Haruka Tomatsu
Hisako Kanemoto
Kaoru Mizuhara
Keiji Fujiwara
Kenta Miyake
Rikiya Koyama
Rina Satou
Yoko Hikasa
Yoshitsugu Matsuoka
Yui Horie
Yuko Kaida
Caitlynn French
Carli Mosier
Christopher Patton
Luci Christian
Brittney Karbowski
Emily Neves
George Manley
Greg Ayres
Hilary Haag
Kalin Coates
Kalob Martinez
Margaret McDonald
Mike Yager
Monica Rial
Shannon Emerick
Shelley Calene-Black

Music From:
Elements Garden
Hitoshi Fujima
Junpei Fujita
Noriyasu Agematsu

Director of Photography:
Atsushi Iwasaki

Editor:
Kentarou Tsubone

Producer:
Gou Nakanishi
Yasuhiro Kamima

Distributor:
Sentai Filmworks