1990: The Complete Collection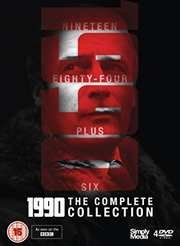 Certificate: 15
Running Time: 880 mins
Retail Price: £29.99
Release Date: 20/11/2017
Content Type: TV Series
Synopsis:
Series 1 and 2 of Wilfred Greatorex's disturbing vision of a future Britain, devoid of individual rights, is as relevant today as when it first aired in 1977.
1990 will thrill sci-fi and dystopian fiction fans alike.
Edward Woodward stars.

Simply Media are delighted to announce the DVD release of the critically acclaimed dystopian drama 1990: The Complete Collection, on 20th November 2017. This collection contains all 16 episodes from series 1 and 2, originally broadcast on BBC Two in 1977.

1990 has been lauded as a "TV landmark" by Junsui Films Limited, "a minor miracle it has been finally released" by We Are Cult, and a "well-crafted British character drama" by Archive TV Musings.

The Guardian has described the series creator Wilfred Greatorex (Secret Army) as "one of the most prolific and assured television script-writers and editors from the 1960s into the 1980s."

1990 tells a chilling tale of a bleak and nightmarish future Britain where individual rights have been replaced by rights only for the common good. Government bureaucracy is out of control. The lives of ordinary citizens are in the hands of the Home Office's corrupt and overbearing Public Control Department (PCD), which has its watchful eye on everyone to monitor and expose all possible and imaginary threats to the country.

Greatorex described his series as "Nineteen Eighty-Four plus six" because of the parallel themes with Orwell's prophetic novel. The PCD uses sophisticated surveillance systems to expose anyone threatening the status quo. Special State-sanctioned brainwashing units, cunningly disguised as caring rest-homes, are ruthlessly used to suppress independent thought and "cure" dissidents.

A strict rationing of food, alcohol and travel is imposed, and ID cards are required to work, which can be withdrawn by the state at any time. Free speech is forbidden, censorship is rife, and with no rule of law to protect the vulnerable, all citizens are left at the mercy of the state's tyrannical control. Or so it seems....

1990 stars Golden Globe winner Edward Woodward (The Wicker Man) in the lead role as the calm, witty and charming rebel Jim Kyle. He's a journalist working for one of the last remaining independent newspapers, and a secret dissident who is fighting the corrupt establishment by covertly helping others escape. He risks prison or even death if identified.

Woodward leads a strong supporting cast including Robert Lang (Othello (1965)), who gives an unforgettable performance as the PCD's ruthless controller Herbert Skardon; and Barbara Kellerman (The Sea Wolves) shines as his provocatively alluring deputy, Delly Lomas.

Series two sees Lynn Blake (Lisa Harrow) join the cast as Kyle's ex-lover, who becomes the new Deputy Controller of the PCD. She's even more determined to expose his informer and finally get her man.

1990 also takes a rare and fascinating original spin on the dystopian fiction genre, unusually depicting a totalitarian regime where the government follows a socialist agenda, instead of the more usual fascist regime.

In a society today where the "Snoopers Charter" has been passed by the British Government, justified as a means of combating terrorism, Greatorex's fictional vision of the future may not be so different from our real present.
Special Features:


Video Tracks:
4:3 Colour

Audio Tracks:
English Mono

Directed By:
Alan Gibson ... (5 episodes, 1977-1978)
David Sullivan Proudfoot ... (4 episodes, 1977-1978)
Kenneth Ives ... (3 episodes, 1977-1978)
Peter Sasdy ... (2 episodes, 1978)
Bob Hird ... (1 episode, 1977)
Roger Tucker ... (1 episode, 1978)

Written By:
Wilfred Greatorex

Starring:
Edward Woodward
Robert Lang
Tony Doyle |
Lisa Harrow
Barbara Kellerman