Review of Bill & Ted`s Excellent Adventure
Introduction
I was a late convert to Bill and Ted. With a title like Bill and Ted`s Excellent Adventure, I thought that it was the kind of kid`s movie that children get made to watch because adults think it`s "wholesome" entertainment. Basically it was a case of judging a book by its cover. It took the efforts of a friend who forced me to watch the video to introduce me to its charms.
In the world of San Dimas, California in the year 2688, people live in an idyllic utopia, and it`s all down to the music of one band, Wyld Stallyns. But the future is in danger of unravelling because the band members, Bill S. Preston Esquire and Ted "Theodore" Logan are in danger of flunking their history course, being separated and never forming this world changing band. It is this preposterous premise that forms the plot of this magical movie. In an attempt to keep history on track, the people of the future send back Rufus, with a time machine to help Bill and Ted pass their history test. Seeing an opportunity to really impress their history teacher, Bill and Ted decide to travel to different periods of history and collect " personages of historical significance" to appear in their history test to comment on their perceptions of present day San Dimas. On their way they collect Billy the Kid, Socrates, Beethoven, Sigmund Freud, Genghis Khan, Joan of Arc and Abraham Lincoln. As well as getting into many historical adventures, more mayhem ensues when the historical figures are let loose on an unsuspecting 20th Century California.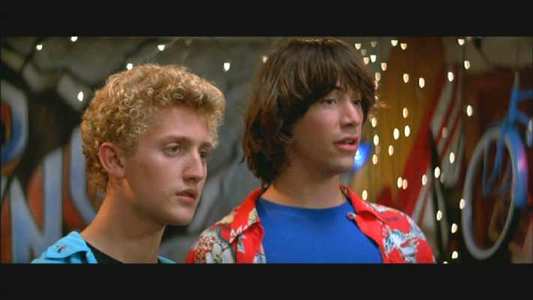 Video
A 2.35:1 anamorphic transfer is presented on this single layered disc. The image is always crisp and the colours especially vibrant. There are a couple of occasions where specks of dirt are visible, but this isn`t too distracting and more a sign of the films age. Ironically, all the historical scenes seem to take place in bright sunny environments, just like California. That must be just my perception.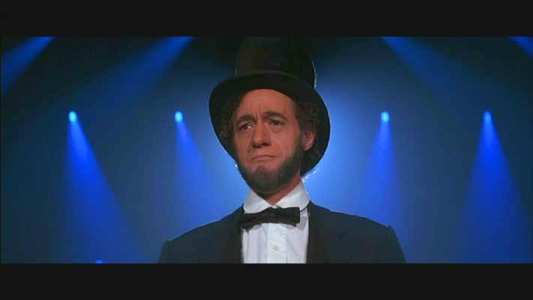 Audio
The sound is presented in Dolby Surround in English, German and Spanish. This is perfectly adequate. Dialogue is clear and audible and action is well presented. This isn`t an action film in the strictest sense, so you`re not counting on big sound effects to punctuate the story. However the soundtrack is excellent and you wonder how much better it could sound in a DD 5.1 presentation.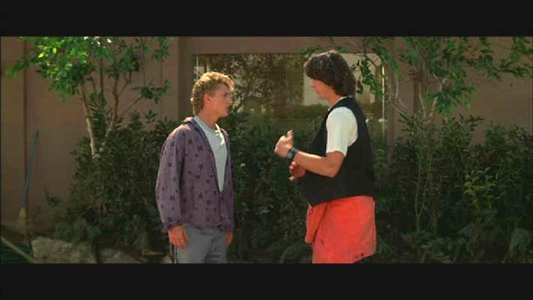 Features
There are not a lot of extras to be going on with, just a trailer and a photo gallery containing 20 pictures and clearly insufficient for such a great film. The menu design is well accomplished. I would have loved a "making of" and a cast commentary. Actually, I would have liked the sequel, Bill and Ted`s Bogus Journey. It was going to be released on the same day but it somehow vanished into the ether. I know, in the future I`ll invent a time machine and go back in time to convince the distributors to release it after all, so now it should magically be on my …… Damn!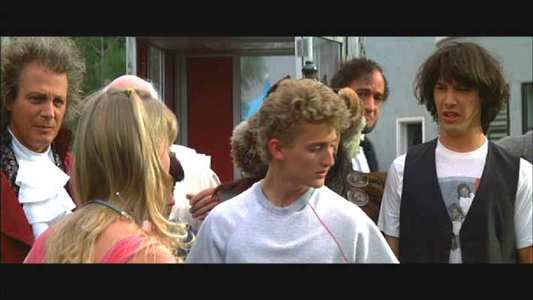 Conclusion
The casting of Alex Winter and Keanu Reeves as Bill and Ted is just sublime. They fit the roles of slacker surf-dudes with a happy go lucky grasp on reality perfectly. Portraying such lowbrow heroes without descending into the kind of humour exemplified by Jim Carrey movies is very difficult, yet Reeves and Winter bring a warmth and charm to the characters, but most importantly, believability. George Carlin plays Rufus and I do not exaggerate to say he`s cooler than Fonzie.
Bill and Ted`s Excellent Adventure is a movie that should be made compulsory to watch. It brings a message of hope and tolerance without ever being schmaltzy or preachy. It`s fun to watch and very funny to boot and appeals to audiences of all ages. There`s simple humour in Bill and Ted themselves, yet there`s something a little more subversive in the character the character of Missy, I mean Mom. I always laugh when Napoleon is unleashed on San Dimas. Pay attention in the ice cream parlour, even his burp has an accent. It`s just inspired when historical figures are let loose in the shopping mall. Joan of Arc takes aerobics, Genghis Khan learns baseball and Beethoven rocks the joint. The film can also be very moving, witness when Bill and Ted blunder into the future and meet their legacy, a future society to whom they are saviours. I love the dialogue in this film. It is very well written and excellently delivered by Bill and Ted. You may think that this is the kind of surf-speak that is delivered by the kind of stereotype that starts every sentence with "Like" and uses "Dude" liberally as punctuation. On the contrary, the dialogue is almost lyrically composed. You feel that you`re listening to poetry whenever Bill or Ted speaks. There is a Shakespearean quality to the way the dialogue is constructed.
Bill and Ted is a brilliant film, very enjoyable and never diminished by repeat viewings. If it has any flaw, it`s too short. I would have loved to see more of the historical personages. It`s a pretty good DVD release. Good picture and sound let down by only a lack of decent extras, but since you can find this disc for under £10, that is not a problem and you really have no excuse. Last year, a big deal was made about getting Jedi recognised as a religion. This film carries a far more profound message "Be excellent to each other. And Party on Dudes!!"