Danger Man: Volume 3 (UK)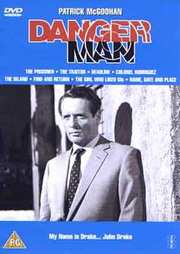 Episodes 13 - 20
Certificate: PG
Running Time: 200 mins
Retail Price: £15.99
Release Date:
Content Type: TV Series
Synopsis:
John Drake is a special agent in the deadly world of international espionage. A master in his field, he is free to go wherever duty calls. Danger Man does not simply attract danger, he thrives on it.

Episode 13 - The Prisoner
john Drake has to find a double for an American who has been accused of espionage and is kept prisoner in the American Embassy in a Caribbean City.

Episode 14 - The Traitor
What makes a traitor? John Drake finds out when his latest assignment takes him to Kashmir, in Northern India, and to drama high up a mountain.

Episode 15 - Deadline
Disguised as a gun runner Danger Man plunges into the African jungle in an attempt to penetrate a deadly terrorist group.

Episode 16 - Colonel Rodriguez
John Drake flies to the Caribbean and masquerades as a reporter in a bid to aid an American jounalist who has been arrested on a spy charge.

Episode 17 - The Island
Two assassins escape from Drake`s custody in a mid aor struggle forcing the plane to crash. They survive and make it to a remote island where the real struggle begins.

Episode 18 Find and Return
Drake finds himself in certain danger in the Middle East, when he is assigned to find a woman wanted for espionage and possibly treason. He is not alone in his search.

Episode 19 - The Girls Who Liked Gls
Drake investigates the death of a solider in Munich who worked on a top security missile section in Munich. The only clues are a roll of film and a girl who like Gls and the head of West German Intelligence.

Episode 20 - Name, Date and Place
A series of successive similar style murders in France, Ireland, Italy and London lead Drake to expose the possible link of a Murder Incorporated organisation.
Special Features:
Interactive Menus
Scene Access
Stills Gallery
Locations Guide

Video Tracks:
Standard 1.33:1

Audio Tracks:
Dolby Digital Mono English

Subtitle Tracks:
CC: English

Directed By:
Michael Truman
Ralph Smart
Peter Graham Scott
Patrick McGoohan
Seth Holt
Charles Frend
Clive Donner
Anthony Bushell
Terry Bishop
Julian Amyes

Starring:
Patrick McGoohan

Soundtrack By:
Edwin T. Astley

Producer:
Ralph Smart

Distributor:
Carlton