Space 1999: Volume 2 (UK)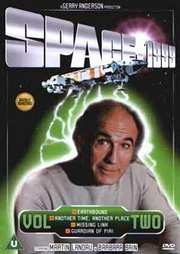 The second DVD of the classic 1975 sci-fi series
Certificate: PG
Running Time: 200 mins
Retail Price: £15.99
Release Date:
Content Type: TV Series
Synopsis:
Gerry Anderson`s live action space spectacular broke new ground in sci-fi TV. Starring Oscar winner Martin Landau in the role that shot him to fame, Space 1999 first aired in 1975 and is acknowledged as a landmark series that set the standard for great sci-fi on the small screen.

September 13th 1999: A freak explosion on the moon sends Moonbase Alpha, Commander John Koenig (Landau), Dr. Helena Russell (Bain) and 309 men and women hurtling out of orbit into darkest deep space.

Earthbound
A spaceship destined for earth crashes into the moon. The Kaldorians on board will be able to take one of the Alpha crew back with them but who will it be?

Another Time, Another Place
After the moon passes through a chasm in the space-time continum, Regina is badly affected and haunted by visions.

Missing Link
After an accident, Koenig finds himself on Planet Zenno, a place of light, peace and immortality.

Guardian Of Piri
"The Guardian Of Piri" tells everyone about the perfect world awaiting them on Planet Piri and an Eagle crew decide to investigate.
Special Features:
Interactive Menus
Scene Access
Memorabilia - Annuals and Comics
Moonbase Alpha Overview
This is your life Photo Story

Video Tracks:
Standard 1.33:1

Audio Tracks:
Dolby Digital Mono English

Subtitle Tracks:
CC: English

Starring:
Zienia Merton
Nick Tate
Barbara Bain
Martin Landau

Soundtrack By:
Derek Wadsworth
Barry Gray

Editor:
Alan Killick
Derek Chambers
Mike Campbell

Costume Designer:
Eileen Sullivan
Emma Porteus
Rudi Gernreich

Production Designer:
Keith Wilson

Producer:
Fred Freiberger
Sylvia Anderson

Executive Producer:
Gerry Anderson

Distributor:
Carlton