Randall And Hopkirk (Deceased): Volume 3 (UK)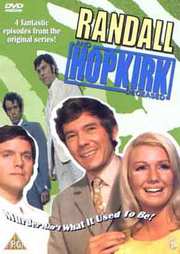 4 episodes
Certificate: PG
Running Time: 192 mins
Retail Price: £15.99
Release Date:
Content Type: TV Series
Synopsis:
It`s good to have a ghost on your side in the private eye business, especially in cases when an invisable ally can really turn the tide in your favour. Mike Pratt plays Jeff Randall and Kenneth Cope is his ghostly partner Marty Hopkirk, cursed to wander the earth for 100 years.

Episode 7: Murder Aint What It Used To Be?Marty has a ghostly rival, Bugsy, a gangster who met his demise in the Roaring Twenties. Not only does he have a repertoire of better tricks, he is also out to kill one of Jeff`s clients.

Episode 8: Whoever Heard of a Ghost Dying?
A criminal mastermind and his clairvoyant, co-conspirator, discover the reason for Randall`s recent success at detection - the late Marty Hopkirk. They plot to make the duo fall guys for robberies and even try to exoricse poor Marty!

Episode 9: The House On Haunted Hill
It`s a case for Marty when Jeff is asked to investigate the mystery of a `haunted house`. It`s just as well as Jeff is preoccupied with solving a diamond robbery.

Episode 10: When Did You Start to Stop Seeing Things
The day Randall and Hopkirk have been dreading has arrived. Jeff can no longer see or hear his ghostly partner. To Marty`s consternation Jeff doesn`t even appeared to be bothered by this!
Special Features:
Interactive Menus
Scene Access
Stills Gallery
Original USA title sequence

Video Tracks:
Standard 1.33:1

Audio Tracks:
Dolby Digital Mono English

Subtitle Tracks:
CC: English

Directed By:
Jeremy Summers
Leslie Norman
Paul Dickson

Written By:
Tony Williamson
Gerald Kelsey
Donald James

Starring:
Ivor Dean
Annette Andre
Kenneth Cope
Mike Pratt

Soundtrack By:
Edwin T. Astley

Producer:
Monty Berman

Distributor:
Carlton