The Hanged Man / Turtle's Progress: Two Complete Series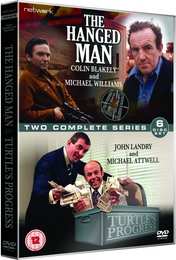 Certificate: 12
Running Time: 1050 mins
Retail Price:
Release Date: 23/01/2017
Content Type: Musical Recording
Synopsis:
THE HANGED MAN
After three attempts to kill him, Lew Burnett, owner of an international construction company, decides to stay 'dead' in order to stay alive. Undercover and on borrowed time, he must draw his enemies out while confronting some painful truths.

Starring Colin Blakely and Michael Williams, this powerful eight-part thriller also features appearances from Julian Glover, Barbara Shelley and Jane Seymour.

TURTLE'S PROGRESS
Adopting a lighter tone, this spin-off charted the exploits of the petty crook first encountered in The Hanged Man, with Turtle and his accomplice Razor Eddie in accidental possession of a van containing eighty safe deposit boxes – the proceeds of a bank job.

Guest starring Antony Sher, Joss Ackland and Peter Bowles, Turtle's Progress prefigured Minder with its gritty London setting and sharp humour.
Special Features:


Video Tracks:
1.33:1 / Colour

Audio Tracks:
Mono English

Directed By:
Marc Miller
Gareth Davies

Written By:
Edmund Ward

Starring:
Colin Blakely
Michael Williams
Julian Glover
Barbara Shelley
Jane Seymour
Antony Sher
Michael Attwell
Joss Ackland
Peter Bowles

Casting By:
Dennis Bartlett

Soundtrack By:
Dennis Bartlett

Director of Photography:
Charles B. Wilson
Dennis Bartlett

Editor:
Charles B. Wilson

Distributor:
Network Distribution