Victoria Wood: Wood Work, A Celebration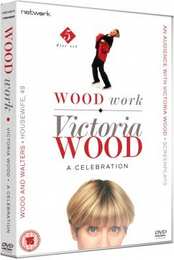 Certificate: 15
Running Time: 573 Mins
Retail Price: £24.99
Release Date: 22/08/2016
Content Type: TV Series
Synopsis:
As one of Britain's best-loved and most talented writer/performers, Victoria Wood's career spanned 40 years and numerous awards – including five BAFTAs. This Lancashire-born singer-songwriter, screenwriter, actor and director blazed a trail and inspired an entire generation of comedy performers.

Victoria Wood: Wood Work, A Celebration 

Wood's astute observational humour was embodied in an engagingly flawed and uniquely British cast of characters; her warmth and universal appeal saw her embraced by all sections of the viewing public in a way that few performers have ever been.
Special Features:
This set celebrates Victoria Wood's unforgettable legacy with the following shows:

Screenplays
Three bittersweet plays – including the highly acclaimed Talent.

Wood and Walters
The complete series – BAFTA-nominated comedy, including the pilot show.

An Audience with Victoria Wood
BAFTA-winning stand-up from 1988.

Housewife, 49
BAFTA-winning drama in this moving portrait of an ordinary woman during wartime.

Special features:
· Julie Walters and Friends: an award-winning one-off special featuring sketches written by and co-starring Victoria Wood
· Archive interviews

Related Websites:
http://networkonair.com/shop/2463-victoria-wood-wood-work-a-celebration-5027626462048.html

Distributor:
network on air