In the Club Series 2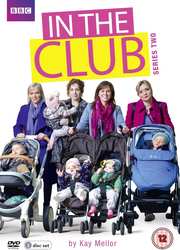 Certificate: 12
Running Time: 360 Mins
Retail Price: £14.99
Release Date: 13/06/2016
Content Type: TV Series
Synopsis:
Written by Kay Mellor and starring Hermione Norris, Katherine Parkinson, Jill Halfpenny, Christine Bottomley and Will Mellor, In the Club Series Two rejoins our mums as they stumble into the realities of parenthood.

Kim is trying to be the perfect mum but with a non-existent love life her relationship with Neil is put in jeopardy. Jasmin and Dev's overbearing mothers have moved in with them but when a hospital visit reveals devastating news this becomes the least of their worries.

Diane visits Rick in prison as his release date draws near but is wondering whether he'll still have a place in a home that's used to being without him. Roanna's struggling to find a job and with money running out she turns to her ex-husband for help, but it's only a matter of time before this and all her secrets come spilling out.

And Vicky tries to juggle baby Ben with her full time job, but when she gets caught up in work, things go terribly wrong.
Special Features:


Related Websites:
http://www.acorndvd.com/in-the-club-s2.html

Written By:
Kay Mellor
Gaynor Faye

Starring:
Yvonne Francas
Hermione Norris
Katherine Parkinson
Jill Halfpenny

Distributor:
Acorn Media UK