Peep Show Series Nine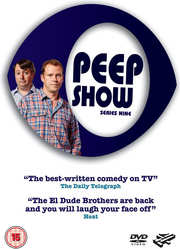 Certificate: 15
Running Time:
Retail Price: £17.99
Release Date: 26/12/2016
Content Type: TV Series
Synopsis:
College chums Mark and Jeremy share a flat in Croyden. Well, actually, unemployed Jeremy lives in a room in Mark's flat.

Although these pals couldn't be more different, they find they're facing a lot of the same issues as they make the adjustment from university life to the working world. Mark is financially secure but socially inept. Jeremy, less successful financially, is confident and usually has better luck with the opposite sex.

Rumoured to be the 9th and last ever Peep - catch up with them as they take a final look at life from their obscure point of view.
Special Features:
Deleted Scenes
Bloopers

Related Websites:
http://www.bbcshop.com/asseenontv/peep-show-series-9-dvd/invt/c4sp010

Distributor:
Spirit Entertainment Limited