Beck - The Series Volume 1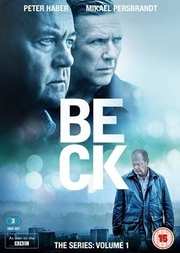 Certificate: 15
Running Time: 7 hours 35 minutes
Retail Price:
Release Date: 23/11/2015
Content Type: Movie
Synopsis:
Nordic Noir and Beyond' label is thrilled to return to its core roots with the release of a classic Swedish detective series, Beck. Currently airing on BBC Four and set for release on DVD from 16th November, this exclusive disc will include all five of the feature-length episodes of the acclaimed show after their BBC run.

Martin Beck is one of Nordic Noir's first and definitive Scandinavian detectives epitomising the good-cop bad-cop routine alongside his petulant partner, Gunvald Larsson. Based on the characters of the hugely popular Martin Beck detective series of novels by Swedish husband-and-wife writers Maj Sjöwall and Per Wahlöö, Beck sees the much-loved detective brought to life on the small screen. Beck is arguably the originator of what has become known as Nordic Noir.

This collection of five feature-length films (Four from the latest season and one from the previous, the latter receiving a theatrical release in Sweden) sees detective Martin Beck investigating the shocking death of a young woman found strangled in a hotel room, a gangster kingpin executed by a sniper in front of his family, a terrorist attack and a suspicious hospital death which sourly turns out to be premeditated murder. It's an intricate web of characters and lies and the killer is never who you expect it to be.

Starring Peter Haber (The Girl With The Dragon Tattoo) as Beck and Mikael Persbrandt (The Hobbit: The Desolation Of Smaug, Salvation and The Hypnotist) as Larsson, the drama's combination of complex woven details of police detection and beautifully realised characters combined with twisting, masterful storylines has ensured that the award-winning series won fans and acclaim from around the world.

Originally written for the screen by Rolf Börjlind, Beck brought the characters created by esteemed crime fiction authors Per Wahlöö and Maj Sjöwall to life. The series created by Jörgen Bergmark and produced by Filmlance International AB which began in 1997 were influenced by the novels and re-imagined with contemporary writers at the helm. And so the saga continues…

But while all 10 novels have been adapted for film over the years, this later series of feature-length films transposes the main characters to new stories set in modern-day Sweden.

The series has stretched to 30 episodes so far, with most of the screenplays by Rolf and Cilla Börjlind. Arrow will release the fifth, and possibly final season, which was filmed earlier this year from 16th November.
Special Features:


Video Tracks:
16:9 Colour

Audio Tracks:
DTS 5.1 Swedish

Subtitle Tracks:
English

Directed By:
Harald Hamrell
Kjell Sundvall

Written By:
Maj Sjöwall & Per Wahlöö (original character stories)
Rolf and Cilla Börjlind (screenplays)

Starring:
Peter Haber
Mikael Persbrandt
Ingvar Hirdwall