The Moaning of Life: Series 2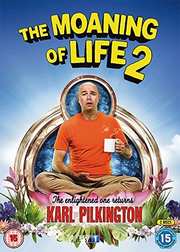 Certificate: 15
Running Time: 255 Mins
Retail Price: £13.50
Release Date: 23/11/2015
Content Type: TV Series
Synopsis:
Pack your case for another trip as Karl Pilkington experiences more of the world's most magnificent destinations.

Following his discoveries in the hilarious first series, this modern day philosopher is now turning his attention to some of life's other big issues, embarking on an epic trip that takes him from the arctic conditions of Iceland to rural India, Mexico, Germany, across America and to the metropolis of Tokyo.

The An Idiot Abroad star moans his way through a whole new series of weird and wacky experiences.
Special Features:
Deleted Scenes

Related Websites:
http://www.bbcshop.com/comedy/moaning-of-life-series-2-dvd/invt/2edvd0901