The Undertaker: The Streak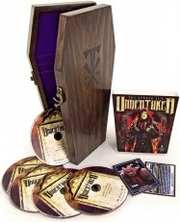 Certificate: 15
Running Time: 642 Mins
Retail Price: £48.99
Release Date: 23/11/2015
Content Type: TV Series
Synopsis:
Celebrate The Undertaker's two decade WrestleMania dominance with this individually numbered Limited Edition Commemorative Coffin Boxset! Limited to 2101 copies

Relive every single match of Undertaker's incredible WrestleMania streak from The Phenom's WrestleMania VII debut vs. Jimmy Superfly Snuka to the shocking moment Brock Lesnar defeated him at WrestleMania 30 and all the illustrious opponents in between.

Every chilling encounter is presented here from bell-to-bell blur-free and unedited for the first time!
Special Features:
Matches Featured:

Wrestlemania VII
vs. Jimmy Snuka

Wrestlemania VIII
vs. Jake 'The Snake' Roberts

Wrestlemania IX
vs. Giant Gonzalez

Wrestlemania XI
vs. King Kong Bundy

Wrestlemania XII
vs. Diesel

Wrestlemania 13
WWE Championship Match
vs. Sycho Sid

Wrestlemania XIV
vs. Kane

Wrestlemania XV
Hell in a Cell
vs. Big Boss Man

Wrestlemania X7
vs. Triple H

Wrestlemania X8
vs. Ric Flair

Wrestlemania XIX
Handicap Match
vs. Big Show and A-Train

Wrestlemania XX
vs. Kane

Wrestlemania 21
vs. Randy Orton

Wrestlemania 22
Casket Match
vs. Mark Henry

Wrestlemania 23
World Heavyweight Championship
vs. Bastista

Wrestlemania XXIV
World Heavyweight Championship
vs. Edge

Wrestlemania XXV
vs. Shawn Michaels

Wrestlemania XXVI
vs. Shawn Michaels

Wrestlemania XXVII
vs. Triple H

Wrestlemania XXVIII
Hell in a Cell
vs. Triple H

Wrestlemania 29
vs. CM Punk

Wrestlemania XXX
vs. Brock Lesnar

Related Websites:
http://www.wwedvd.co.uk/undertaker-streak-limited-edition-coffin-boxset-p-12000.html

Distributor:
FremantleMedia Ltd